An overview of how breath techniques and aviation breathing oxygen during flight can improve performance and ensure safety.
Introduction
When we are under stress, our breathing tends to speed up and becomes shallow. This is because the brain needs enough oxygen to function properly; if you take away some of its oxygen supply then it can start misfiring neurons causing cognitive impairment and poor decision-making. Our reptilian brain takes over and the fight, flight or freeze response can result, leading to poor safety outcomes.
Let's take a look at breathing in flight, the use of a portable oxygen system and some useful breathing techniques.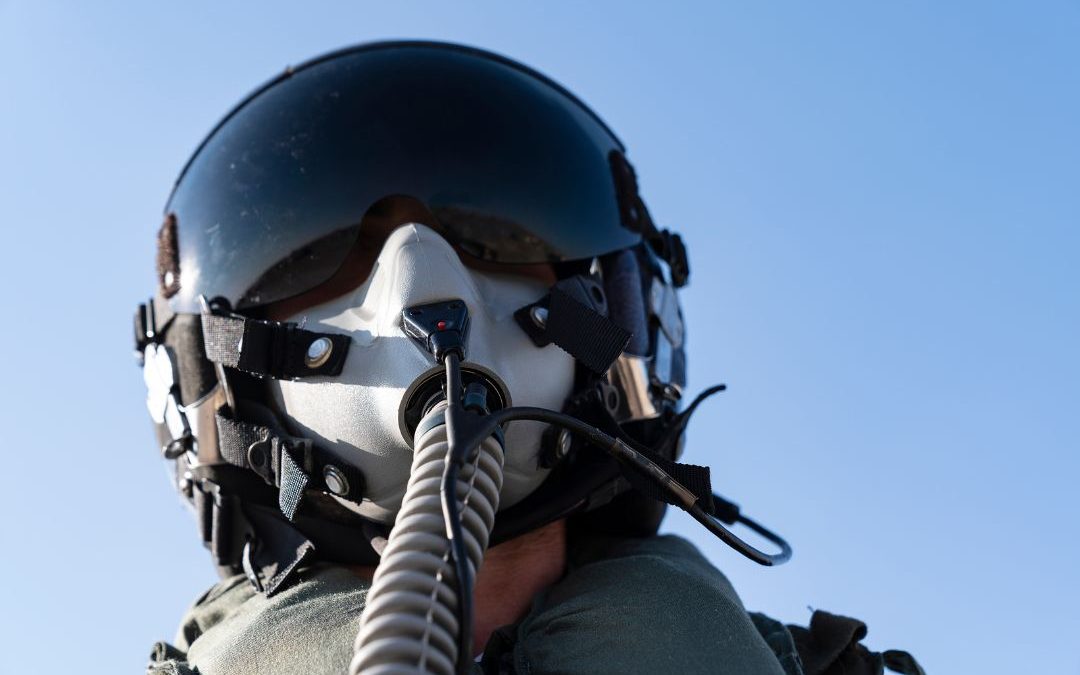 Stress and breathing
It is easy to get stressed in the aircraft, not only during an emergency but also during periods of high workload, or conflict in multi-crew aircraft.
It might sound ridiculous, but learning how to properly breathe in the aircraft can make a big difference to your performance.
I have had student pilots go very quiet and nearly pass out practicing aerobatics maneuvers as well as emergency procedures, simply because they forgot to keep breathing!
Good, deep breathing helps to relax you, and keep you 'Cool, Calm and Collected' so that you can make the best decisions in the cockpit.
Practice!
Go on – practice it now. Take a big deep breath over a few seconds and feel your belly inflate, pause and hold, and then release it by sighing deeply until there's no more air left inside. Let those shoulders droop down again before repeating. Relaxing huh? How do you feel? I would bet a lot more capable of making complex decisions and dealing with multiple system failures than compared to if you were hyperventilating or running away from a bear!
I always make sure to do some good deep breathing to centre myself before a flight, and it works wonders during a pre-flight walk around.
Breathing and G force
During complex aerobatics, breathing can become pretty tricky – high g forces can force the blood out of your head and down towards your feet, and under enough G can cause you to lose consciousness! Common symptoms of approaching a G force-induced loss of consciousness (G-LOC) include feeling a bit dizzy, losing colour ("Greying out") and then your field of vision narrowing until everything is dark ("Black out") before finally you fall unconscious.
Usually, this means we relax back pressure on the stick, the G force reduces, our heart manages to pump our blood pressure which circulates fresh oxygenated blood to the brain and we regain consciousness – it can be very confusing for the pilot (and very entertaining to watch the YouTube footage of fighter pilots in centrifuges practicing).
You can read more about Pilot breathing Issues in Jet Aircraft HERE1.
For those more advanced aerobatics and military dog fights, pilots get help from specialized tools such as 'G suits' which inflate under G force and put a lot of pressure on the legs and abdomen, helping to raise blood pressure and force the blood back into the upper parts of the body to help the heart circulate oxygenated blood to the brain.
There are even more simplified, lightweight systems designed for GA aerobatics (such as the red bull air race) which are flight suits that have columns of water stitched in – as the G force pushes this water down to your legs and backside, it acts just like a G suit and can help give pilots the edge to stay conscious under higher G loading than normal.
The G Hook
There is a specialized breathing technique called the 'G hook3' which fighter pilots and extreme aerobatics pilots use to help cope with high G force (over 5G) in which short, sharp breaths are taken and held in tightly with tensed abdominals to help force oxygenated blood to the brain.
However, the 'G hook' breathing and 'G suits' are definitely not required in General Aviation or Transport category aircraft, since at most you would really only ever experience 2-3G in a steep turn or avoidance maneuver.
"The Hook Maneuver was unclassified in 1990 in a response to civilians' desire to know how these pilots keep their cool in the cockpit. The resulting report by the Naval Air Development Center explains that the Hook Maneuver "Simply emphasizes the proper mechanics for physiologic enhancement of tolerance" in a way that is "easily understood, rapidly mastered, and easily remembered."'

gearpatrol.com/fitness/a393291/hook-maneuver3
Breathing Oxygen and Oxygen systems
For unpressurized aircraft, as we ascend the partial pressure of molecular Oxygen (02) decreases, making it harder for our lungs to put the oxygen into our bloodstream. According to most aviation laws, above 10,000ft cabin altitude, we require a supplemental oxygen flow. This is to keep pilots' brains functioning correctly, and also to protect our passengers.
Above 10,000ft we can become hypoxic4 which leads to poor decision-making, loss of vision, dizziness, euphoria, and eventually loss of consciousness and even death! Unfortunately, many aircraft have fatally crashed due to hypoxia.
Pressurised aircraft are able to overcome this limitation by effectively 'pumping up the aircraft like a balloon' – bleed air from the engines is used to push air into the aircraft causing it to pressurize meaning we can typically experience about a 6,000ft cabin altitude even when cruising above 30,000ft! This is a very important system to understand well, and malfunctions can result in pilots requiring to wear oxygen masks in flight with a continuous flow oxygen system; which may supply either a mix of cabin air and oxygen, 100% pure oxygen (in case of smoke or fumes), or even pressurized oxygen if you are at a high enough altitude.
Breathing pressurized 100% oxygen is quite difficult as it is kind of like breathing in reverse – you actually have to actively breathe out, and then the oxygen mask fills your lungs back up. Normally you do it the other way around – actively breathe in and then your diaphragm forces the air out!
You can check out some aircraft oxygen systems including continuous flow systems on this website HERE5.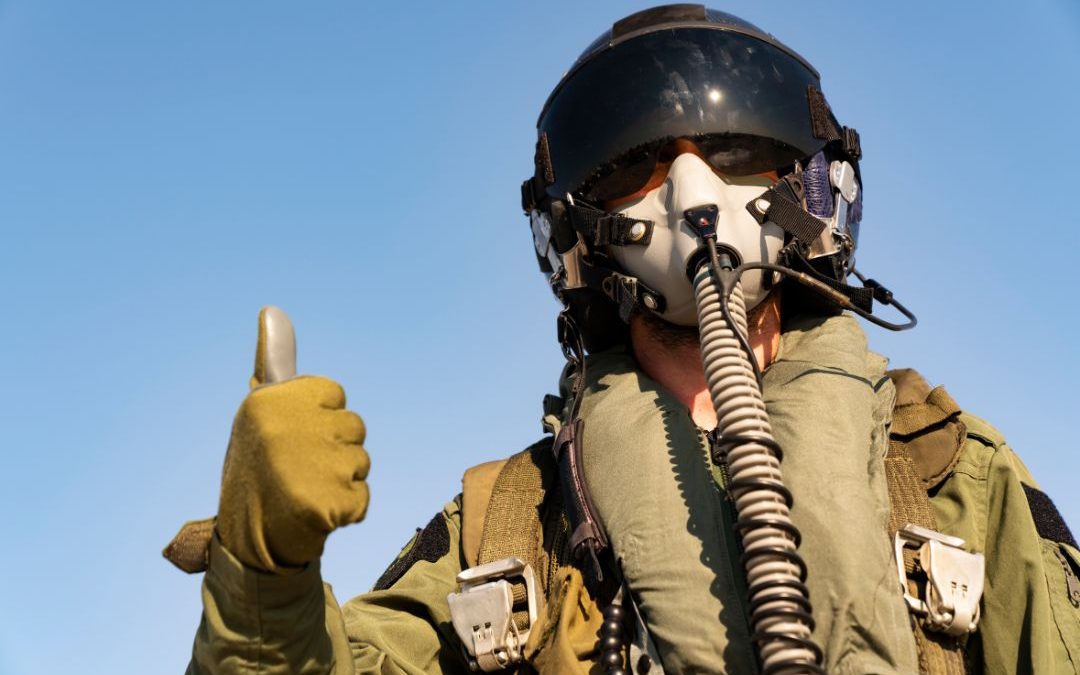 Conclusion
Just remember, if you find yourself getting worked up or flustered in flight, remember to breathe; take a couple of deep breaths before you make any rushed decisions. Breathing techniques and being aware of how G forces and altitude can affect our breathing, and how that has an impact on your safety and the safety of everyone on board, will result in a safer flight and better outcomes for next time too! Portable oxygen systems can definitely help the oxygen supply on board too.
Do you have experience with aircraft oxygen systems? Have you ever greyed out or blacked out due to lack of oxygen? Let us know in the comments!
References:
'NASA Sheds New Light on Known Pilot Breathing Issues in Jet Aircraft', Theresa Whiting, NASA.gov. Published (updated): May 14, 2021. Accessed online at https://www.nasa.gov/centers/armstrong/features/nasa-sheds-new-light-on-known-pilot-breathing-issues.html on Dec 29, 2022.
'G-suit', Military History Fandom. Accessed online at https://military-history.fandom.com/wiki/G-suit on Dec 29, 2022.
'This Unclassified Technique Keeps Fighter Pilots Awake and Alert in the Cockpit', Caitlyn Shaw, Gear Patrol. Published: Oct 4, 2017. Accessed online at https://www.gearpatrol.com/fitness/a393291/hook-maneuver-agsm-tutorial/on Dec 29, 2022.
'Airman Education Programs – Beware of Hypoxia', Larry Boshers, FAA. Accessed online at https://www.faa.gov/pilots/training/airman_education/topics_of_interest/hypoxia#:~:text=This%20type%20of%20hypoxia%20is,less%20pressure%20per%20square%20inch on Dec 29, 2022.
'Aircraft Oxygen Systems and Components', Aeronautics Guide. Accessed online at https://www.aircraftsystemstech.com/2017/05/aircraft-oxygen-systems-and-components.html on Dec 29, 2022.