Find out the best aviation headsets as we review some of the best-known headsets for pilots, including noise-cancelling pilot headsets, and headsets for students
The first thing that most first-time students notice when the engine starts up is how loud it is in the cockpit of nearly every GA aircraft. For many people, the only experience they've had inside an aircraft is as an airline passenger, and it is silent compared to the roar of the engine in most non-passenger aircraft. I've flown in literally hundreds of different aircraft since I became a pilot, and I can tell you that in the list of design priorities, noise-suppression is at the bottom of the list, behind cup holders, unless you're in a passenger aircraft.
Preview
Best Overall
Title
David Clark H10-13.4 Aviation Headset
Rugged Air RA200 General Aviation Headset for Student Pilots...
Bose A20 Aviation Headset with Bluetooth Dual Plug Cable,...
Preview
Title
David Clark H10-13.4 Aviation Headset
Preview
Title
Rugged Air RA200 General Aviation Headset for Student Pilots...
Best Overall
Preview
Title
Bose A20 Aviation Headset with Bluetooth Dual Plug Cable,...
Luckily there's a relatively simple solution, which also solves the equally important problem of having to communicate in the air – headsets.
I've gone through several headsets in my time from, made by some of the big brands in the market. Headsets range from cheap and nasty (for passengers you don't like!) to good value, to absolutely outstanding quality.
I'm not going to waste your time with bad headsets, but I will give you an insight into my experience with 3 of the most well-known headsets, and my advice on what's the best aviation headset.
Here's the answer: There are a lot of great headsets on the market at the moment, but my top 3 picks are;

Most Popular: David Clark H10 Best Value: Rugged Air RA200 Best headset: Bose A20 and A30 Headset
This website is reader-supported, which means we may be paid when you visit links to partner or featured sites, or by advertising on the site. For more information please read my Privacy Policy and Terms of Use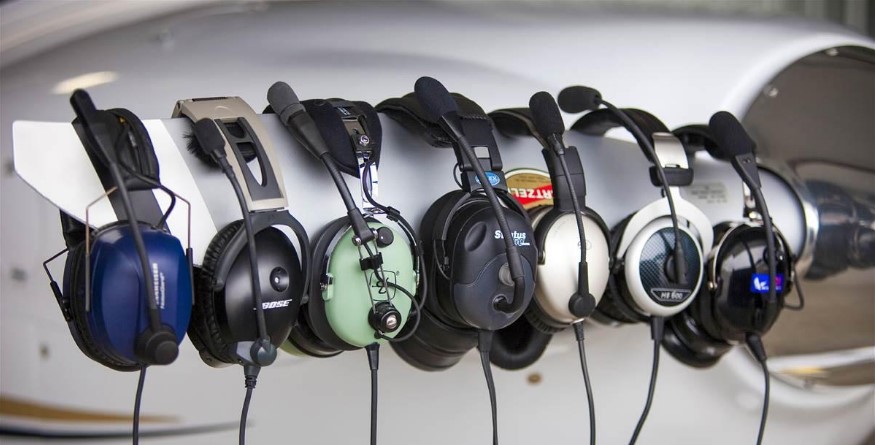 Best Aviation Headsets
During my time in Aviation I have flown with over a dozen different types of aviation headsets, and combined with our other pilots that list grows to dozens more. Here is a list of some of the best aviation headsets with links to our detailed individual review on each.
We are still reviewing and writing up more articles for other popular headsets we have flown with, including the following;
David Clark H10 (The Classic)
Clarity Aloft Pro Plus
Bose Proflight series 2
Lightspeed Sierra
Lightspeed Delta Zulu
Wicom pilot headset
Pilot Communications Headsets (PA51 through to PA-18-50 ANR models)
Altronics Aviation headsets
Flightcom headsets
Read further to see an introductory review of our chosen headsets, plus my analysis at the end to see how I chose my top 3 headsets.
The Bose A20 is the premium pilot headset. Whilst primarily designed for the general aviation segment, Its lightweight and comfortable construction makes it easy to wear on long flights and has been adopted by a number of airlines and military flying squadrons – and there are now variants specifically tailored to airline pilots.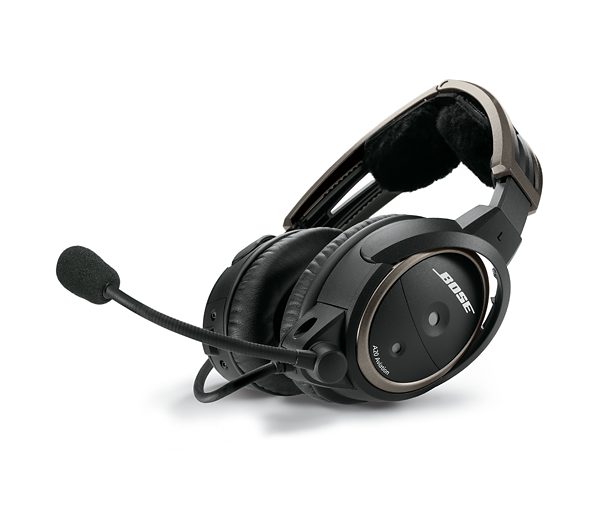 Insanely good noise reduction – tested to be 30% better noise reduction than industry standard ANR
Active equalisation of audio – the headset automatically processes your audio to make it clearer
Audio prioritisation: You can listen to music, phone call etc, and when an ATC radio call comes in, it will mute everything except Air traffic
Very comfy to wear for long time periods – 30% less clamping force than industry standard headsets
Bluetooth to connect your phone etc
Extremely long battery life – over 45 hours from one pair of AA batteries.
Customisable – Can switch which side the Mic is on.
Extremely light weight – 340g
Fantastic through life support and maintenance – easy to get spares and any dealer can have it sent to a repair facility and back to you in no time! (mine was returned within a week)
The Bose A20 was discontinued from production by Bose in late 2023, replaced by the next-generation model the Bose A30
The next gen of most products should improve on the last and this is definitely the case with the Bose A30 being the upgrade on the Bose A20. It does not mean the A20 wasn't good for its time, it is just that innovation must be continuous to keep up.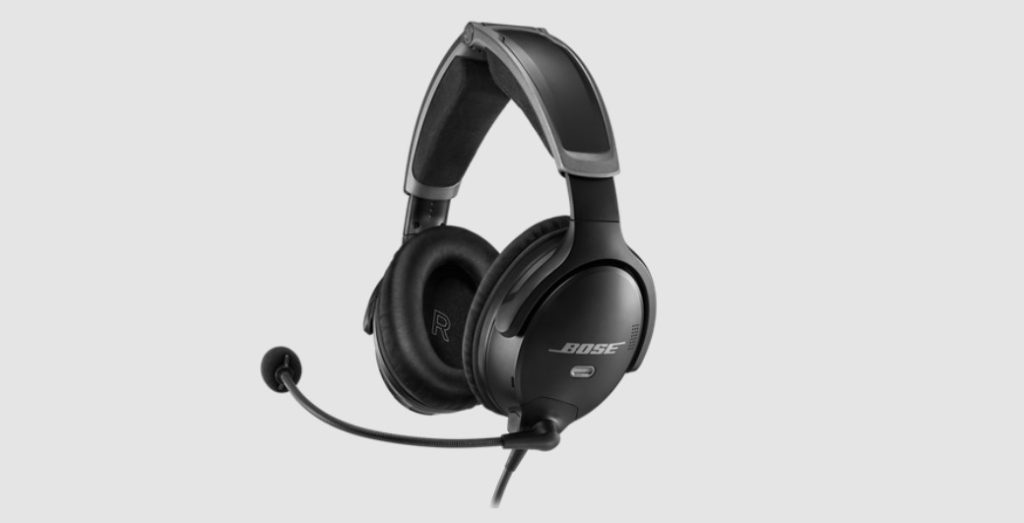 The A30 is lighter and is reported to have 20% less clamping force on the head. If you consider one of the ICAO Communication competency behaviors is 'reduce distraction' then the reduced head clamping actually means better communication awareness which can translate to improved safety.
Additionally, the noise cancellation on the A30 is now digital, whereas the A20 was analog generated which basically means it is more advanced in the management of low tone frequencies for the pilot. We all like soft and fluffy and the cushions on top of your head were that on the A20, however, the A30 has a memory foam style rather which is more comfortable. The fluffy version can get a little sweaty for even the seasoned pilot! A good change.
"The Bose A30 is the highest-performing, most comfortable around-ear aviation headset for pilots we have ever created. It dramatically elevates every flight with the best combination of comfort, audio clarity and active noise cancellation on the market."

https://www.bose.com.au1
The Lightspeed Zulu 3 headset was released in 2017 and is still one of the best offerings from Lightspeed Aviation which provides high-end aviation headsets and other supplies for both recreational and professional pilots worldwide.
What perhaps sets this headset apart from its competitors, however, is the fact that it comes with a 7-year warranty as opposed to the usual 5-year assistance from other headset manufacturers.
Very light weight
Overall comfort
Durable – built to last
Superior ANR (active noise reduction)
Has auto shut off and other extra features
7 year manufacturer warranty
Versatility (multiple plug configurations)
Can pair bluetooth
The David Clark DC One Xis an ANR-style headset where 'ANR' means 'active noise reduction'. In the earlier styles, the only option has PNR which means 'passive noise reduction' where the ear cups are the only layer to manage external noise.
David Clark has included the ANR feature to combine the direct passive style with the newer technology of hybrid electronic noise cancellation. The David Clark DC One X still is recognizable in the classic David Clark green, sporting many new features to enable pilots a seamless communication experience including a Bluetooth feature for pairing with any compatible smart technology gear.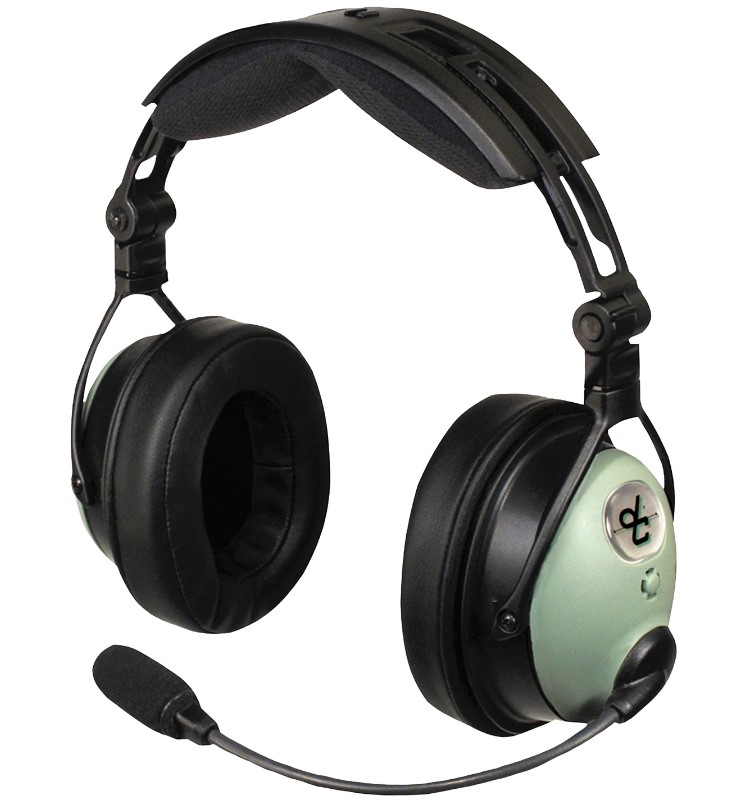 Lightweight alloy headband
Versatile and compact
Active noise reduction – "Noise just goes away!"
Soft heat absorbing pad on top of pilots head
Bluetooth wireless functionality for smart technology
Soft leatherette ear seals to reduce sweating
30-day money-back guarantee from the manufacturer
Hand made
Comfortable fit that can be worn for hours (no clamp effect)
Wireless technology with easy pairing to devices
Can listen to music while flying and it will cut out if intercom, radio call or transmit
Usable if batteries go flat
Priced to compete with other ANR headsets
Good after-sales service and spare parts availability for repairs
Kens Top picks for aviation headsets
After extensive research and practical testing, I have narrowed my current top 3 list to
Most Popular: David Clark H10
Best Value cheap headset: Rugged Air RA200
Best overall headset: Bose A20 (and now, the newer released version the Bose A30!)
Most popular aviation headset – David Clark H10
David Clark H10's are the benchmark in passive noise attenuation pilot headsets. Their sturdy construction, user comfort features such as padding and gel comfort earcup options, and mid-range pricing have for years made them the industry standard. it is hard to find an aircraft passenger or pilot who hasn't worn a pair of H10s.
I personally began flying with a pair of H10s to replace the school Pilot avionics loaner pair, and it was a much-needed step up in comfort. Even for shorter sorties up to one hour, the difference is noticeable over cheaper pairs; ear pressure due to the stiffness of the brace and comfort from the gel pads mean that you won't have sore, red ears when you take them off. This also reduces distraction in flight allowing you to provide your full attention to the job – something which is already difficult enough for most trainees trying to earn their wings.
The H10s come in a variety of options of passive and active noise attenuation, and in single plug helicopter or dual plug general aviation configurations. A simple converter is all that is needed to switch between plug types; however, ensure the headset ohmage is correct for your class of operations (and determined by your avionics). For all industry and GA usage, the standard ohmage is appropriate, but pilots of unique aircraft such as military warbirds will need to consult their flight manual and avionics maintainer for further advice.
Sale
Best value aviation headset – Rugged Air RA200
If you're looking for a good, noise-dampening, headset with clear audio and speech, then you can't go past the Rugged Air RA200. For under $100, the RA200 is a great value aviation headset for when you're starting out as a student pilot.
The RA200 has passive noise attenuation options only, standard microphone and soft padding materials all round. It's made in China, but if you are on a budget and not yet ready to invest in the more expensive options or wanting something for passenger seats without breaking the bank, this is appropriate.
Sale
The Bose a20 is the premium pilot headset. Whilst primarily designed for the general aviation segment, It's lightweight and comfortable construction makes it easy to wear on long flights and has been adopted by a number of airlines and military flying squadrons.
My review of the Bose A20 aviation headset is based on over 10 years of flying with it. I first purchased my pair of Bose a20s while studying engineering at college. I was learning to fly and I was sick of the uncomfortable and unhygienic 'loaner sets' on offer at the flying school. I knew I needed my own pair, and set out to find the best and cheapest available.
After several weeks of searching and indecision, something happened that made up my mind instantly.
A local pilot from the town I was flying in offered to take me up for a quick joy flight to show off his new crop-dusting aircraft. Being a keen student, with an excited grin I took him up on the offer and within minutes we were walking airside toward the aircraft. When we got in the cockpit I realized In my excitement I had left my loaner pair in the school on the rack and turned bright red- "not to worry" Ian comforted me as he offered me his wife's pair of Bose a20s for the flight.
When I picked them up the first thing I noticed was their lightweight and nice aesthetics, and putting them on they were very comfortable. We flew for just over an hour, and in comparative silence and crystal clear comms due to Bose's Active Noise Reduction noise-canceling technology, despite Ian letting his IO-720 piston engine roar as we blasted down the coast low level at close to full power, in a vibrating agricultural aircraft and turbulence due to strong winds.
Strangely, After the flight, I noticed I didn't have my usual sore ears and dull headache. I was sold and ordered my pair that night – spending $1600 including express delivery. I still have my original set, which has now accumulated over 2000 flying hours over ten years of weekend getaways and working as a flight instructor.
Whilst I still have since also acquired a trusty pair of David Clark H10s for my infrequent passengers, and always wear my Gallet LH350 flight helmet for warbird and aerobatic flying, I always reach for my A20s during regular flight operations. Once you've flown with a high-quality noise-canceling aviation headset like the Bose A20, it's hard to go back. The comfort, noise attenuation, and lightweight reduce my fatigue on long flights allowing me to focus on my core job of flying and aircraft safety.
Bose also has excellent after-sales support and product warranty. Rather foolishly, one day I managed to slam the headset adaptor cord in the door of the aircraft very hard, crushing the cable and one of the ear cups stopped working. One quick phone call to my local pilot shop who was an authorized Bose agent, and I had a plan in minutes. I dropped the headset off later that day to the shop and they mailed the broken headset to customer care – despite my actions causing the damage this was all covered under warranty and I had them back within the week, total cost – $14 worth of postage. The customer care team had also taken the care to replace the earcup and head padding at no extra cost, and extended the warranty of their work!
Many pilots that I meet use the Bose a20 and once you have tried a pair it is hard to go back to the cheaper brands.
Whilst I still love my Bose A20s and wont be retiring them anytime soon, Bose has discontinued production, and now offer the next generation Bose A30 headsets, which are even better and take the BoseA20 to the next level.
You can check out my London Fog Luggage review here for some ideas on where to put all your gear!
---
What headset do you use when you fly? If you've got alternative recommendations, we'd love to hear from you in the comments below.