A pilot's shirt is a quintessential part of a pilot's uniform. We've reviewed the best shirts to wear as a pilot. Find out which flying shirts are breathable, stylish and durable so you'll look like a pro in the air.
When I first started my career as a commercial pilot there were about zero dollars to spend on things like custom pilot shirts. In those days, keeping the shirt on my back meant keeping the cost of that shirt as low as possible. So I was wearing shirts off the rack from the pilot shop in my city or picking them up for cheap on eBay.
Related – Are you on a tight budget and looking for a decent pilot shirt? check out our complete guide to all Van Heusen Pilot Shirts.
Wearing a cheap shirt in the cockpit is not the same as wearing one in the office, particularly in a general aviation aircraft. You've got limited space, are sitting down for very long stretches at a time, you're constantly active – both physically and mentally (which means sweating), and have limited climate control. This means that the discomfort of a low-quality shirt is seriously worse as a pilot than an office worker. On top of this, you still need to look presentable for other colleagues in the terminal, paying passengers on sightseeing flights or short transport trips.
Image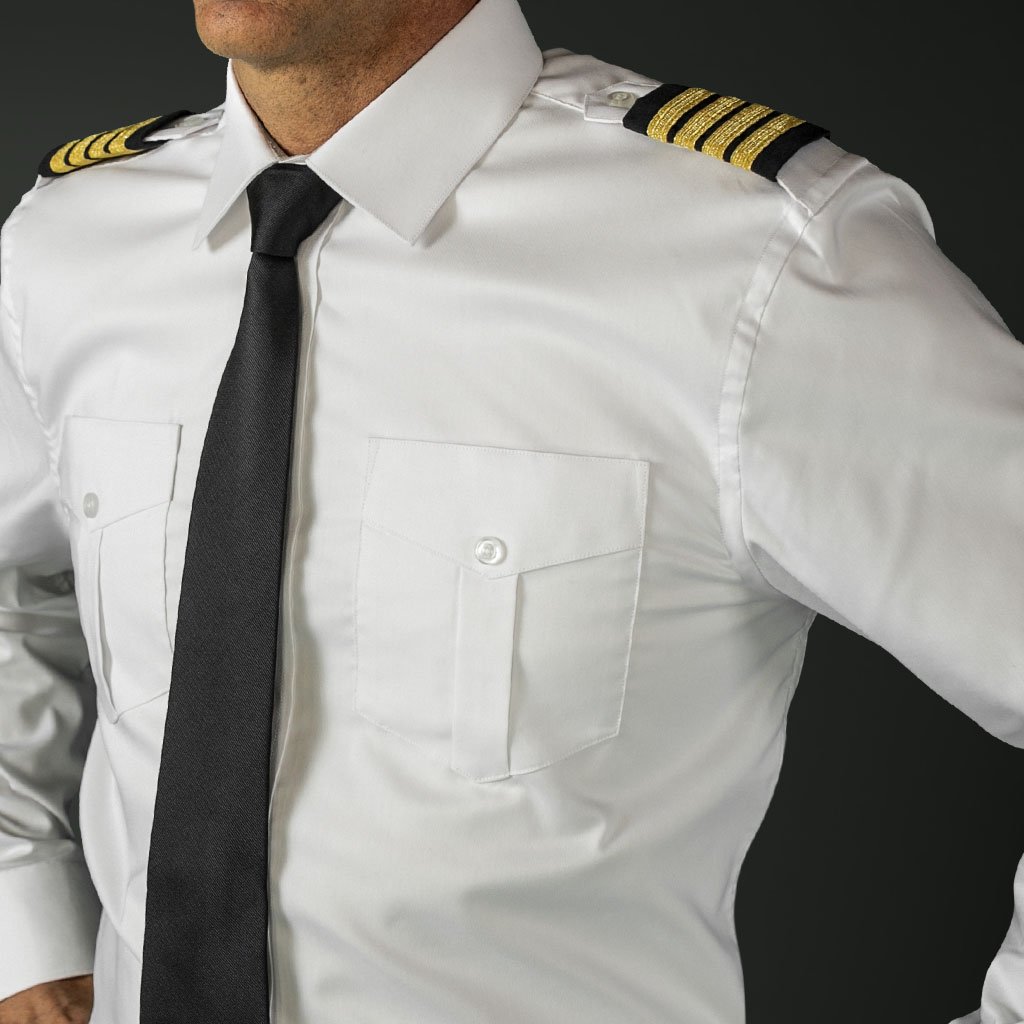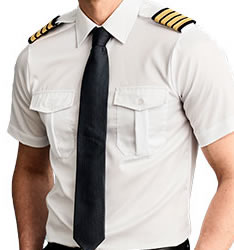 Fit
Standard range of sizes
Width (fit) variations
Extended range of sizes
Width (fit) variations
Height variations
Optional Eyelets
Extended range of sizes
Width (fit) variations
Height variations
Optional Eyelets
Torso reduction options
Standard range of sizes
Width (fit) variations
Sleeve length options
Fabric
100% cotton and cotton/synthetic blends
The day I got my first flying job with decent pay, one of the first things I invested in was some really nice tailored pilot shirts from a bespoke clothing store in the upmarket end of town. These were not cheap by the way, at about $190 a shirt, but I figured it was worth it. Since then I've been wearing a combination of tailored shirts, custom shirts, and Van Heusen shirts (some are actually pretty good!)
However, in recent years, several dedicated aviation clothing outfitters have sprung up, offering custom, good quality shirts, at pretty reasonable prices. Here's a summary of several custom pilot shirt providers online, some of which I was able to try out myself.
This website is reader-supported, which means we may be paid when you visit links to partner or featured sites, or by advertising on the site. For more information please read my Privacy Policy and Terms of Use
Since you'll be in the cockpit for several hours at a time (if not more) having a good custom fitting shirt is important as a pilot – you don't want anything too tight, but it should also look professional. Here are some considerations for choosing the right men's or women's shirt, particularly if you're buying online, where you can't try it out before you buy.
Comfort. I cannot stress how important this one is, which is a problem, since it's also extremely hard to know before your shirt arrives and you try it on. Look for things like neckliners, typically the source of most itches is the collar. Another consideration is the material – 100% cotton shirts are generally more breathable, but some spandex blends also have some stretch in them which makes a closer fitting shirt more comfortable, especially when extending your reach for circuit breakers, overhead panels, and during pre-flights.
Hardwearing. A custom pilot shirt needs to be as hardworking as the pilot wearing it. Typical failure modes include stitches breaking, buttons falling off, and pilling. Look for a reinforced placket, four-hole buttons (rather than two-hole), double-stitched seams, and 100% cotton (which may help prevent pilling).
Stain and water-resistance for those working around Coffee, fuel oils, and lubricants (or trying to eat inflight rations in turbulence!). Look for fabric treatments the manufacturer has used to improve water resistance.
Fit. A better fitting shirt will be more comfortable since you'll need to spend less time strategically tucking it in to stop the sides of your shirt billowing out. In general, more customizable dimensions (rather than just neck size and slim/medium fit) will result in a better fitting shirt, but you'll also need to be able to measure yourself accurately for this to matter. Some companies also have better quality assurance than others meaning that a size 16 is always 16 and not sometimes 15.5 or 16.5.
Wrinkle-resistant. Do yourself a favor and look for shirts marked as "Non-Iron" or "Wrinkle-Resistant" and your tumble dryer should do most of the work for you (although it won't help the shirt last as long). A wrinkle-resistant shirt is also more likely to look good after 10 hours of flying and helps pilots with busy schedules and quick turnarounds. "Easy-iron" is the next best, but may produce more wrinkles throughout the flight.
Flammability. Unfortunately, something you might want to consider as a pilot is what happens if (god-forbid) you crash land your aircraft. 'You'll be dead though right?' Wrong. 90% of recent aircraft crashes are classified as "survivable". So it's important to think about what will happen to you after impact, which is likely going to include some kind of aircraft fire. This means that what you wear could determine whether you walk away unscathed, disfigured, or dead. This is where your clothing matters, I try to aim for natural fibers like cotton or wool where possible, since these will catch fire, but won't melt on your skin like polyester or nylon.
Length. A long sleeve shirt might 'sound' hotter especially in a cramped, sunny cockpit in the tropics, but it will protect you from the increased UV radiation at altitude and keep the sun off your skin. Plus they help cover up some of those cool tattoos you might have picked up in your earlier Military or GA flying days…
Sale
Bestseller No. 1
Bestseller No. 2
Airman Pilot Shirts Review
A relatively new provider of clothing for pilots, Airman Pilot Shirts focus on fitted, quality shirts for aviators and are based in the UK. The owner, Rob, is a commercial pilot and also a contributor to ProAviationTips, who understands the shortcomings of most pilot shirts and has teamed up with T.M. Lewin to provide high-end custom shirts for pilots. If you're going for style and quality and have an average build, you can't go wrong here, but if you're way under or over the standard sizes (either length or girth) you might find the options a bit limited.
Pros
Excellent quality, 100% cotton shirts
Very stylish in appearance
Easy-iron fabric
Cons
Limited sizing customizations
Airman Pilot Shirts has combined British shirtmaking heritage and aviation industry expertise to create some of the world's finest pilot shirts. They pride themselves on having created "the best fitting, best looking and most durable shirts around today", and focus on three key elements to create the perfect shirt for pilots in modern commercial aviation:
Fit: Most pilot shirts around on the market today are designed to be a one-size-fits-all garment. In contrast, they offer a range of fits – from slim fit to fitted shirts to suit most body types. What's more, the sleeves are tailored so as not to leave unnecessary and unsightly protrusions from the pilot's arms.
Fabric: Airman Pilot Shirts come in a range of fabrics, allowing for different pilot preferences. The 100% cotton shirts allow for high levels of comfort, durability, and breathability, whilst high tech fabric blends offer more performance and practicality such as being easier to iron.
Finish: The shirts are constructed by professional shirtmakers and have been through many iterations to create the perfect shirt. From providing eyelets for wings to reinforcing epaulets for durability, they have thought through a lot of details for their pilot shirts.
Airman Pilot Shirts also offer worldwide shipping at competitive rates, and free returns.
You've probably heard of A Cut Above Uniforms, they're one of the most well-known aviation outfitters in North America and one of the first places a lot of pilots look when they graduate from "off-the-shelf" pilot shirts. Chris Pilarski, the owner, is an ex-airline pilot and began his aviation uniform business over 10 years ago.
Pros
Good range of fitting options
Collar-liner
Flexible fabric options
Cons
High synthetic blend fabric
A Cut Above Uniforms offers semi-custom pilot shirts. They start with 3 fit levels and multiple fabric choices and end up with 370 different configurations from which to choose. Each of these can then have the torso or waist size customized for an additional $8 USD. The result is a nearly custom fit for a great price and little hassle. All men's shirts feature the original cool and dry collar.
In addition, A Cut Above offers a complete line of pilot apparel for a one-stop shopping experience. Categories include shirts, pants, blazers, sweaters, outerwear, and accessories. Suiting and stripe colors are fairly standard in the industry and A Cut Above supplies all the standard colors and more. All items are carefully developed to provide a superior modern fit but a large size range is available. Materials are chosen to balance comfort with durability. While a product company first and foremost, A Cut Above aims to provide unmatched service experiences as well. You can read my full review of A Cut Above Pilot Shirts.
A lot of pilots we know have had a great experience with A Cut Above shirts, particularly the "Tropo", and absolutely love the flexible fit. They've also got their shipping down-pat with very quick dispatch and delivery. We have heard a few complaints recently about quality control – shirt sizes not being quite right and so on – but the team is very good to deal with, generally sort the problems out quickly, and provide free domestic exchanges in the USA.
All shirts are a cotton/synthetic blend, and while I generally prefer 100% cotton, they're pretty comfortable by most accounts, and the spandex weave definitely helps with movement while seated.
Sale
Bestseller No. 1
JetSeam Pilot Shirts Review
JetSeam is also a relatively new outfitter for pilots, based in North Carolina and founded by a group of partners from the import and clothing industry. As a result, JetSeam has paid a lot of attention to the comfort and functionality of their shirts, and they have been designed in consultation with professional pilots.
Pros
Very solid design
Good range of fitting options
Collar-liner
Flexible fabric options
I tried out one of their slim cut shirts with the gold label fabric and was impressed with the quality of the design and construction. The placket (the center section with the buttons) is reinforced, as are the collar, arm seams, and shoulders. This should help avoid any embarrassing blowouts during the preflight or wangling yourself in and out of the seats. The neck section also has a pretty soft collar liner which is nice and plush.
JetSeam also has the most options for customizing your shirt fit of all of the custom pilot shirt providers we looked at. On top of the standard collar sizes from 14.5″ to 19″, you also get regular and tall options, eyelets, and up to 3in of torso reduction. As a result, you can get a pretty close fit on your shirt without needing to go to the tailor. The only thing we'd like to see is narrower arms for short sleeves so there isn't as much material flapping around, but this is the same as most other shirt providers we've seen.
JetSeam also has a fairly novel idea regarding pockets. Rather than just a normal shirt pocket with a pen hole in the top left, the pockets of the shirt I tried had the entire top section open to make stuffing in pens, notebooks, ID cards and even your passport a lot easier. I even found the fattest notebook I could find and it fits in the pocket nicely! The downside is that the pockets, though appearing real, don't actually function – i.e. the button flap is sewn shut.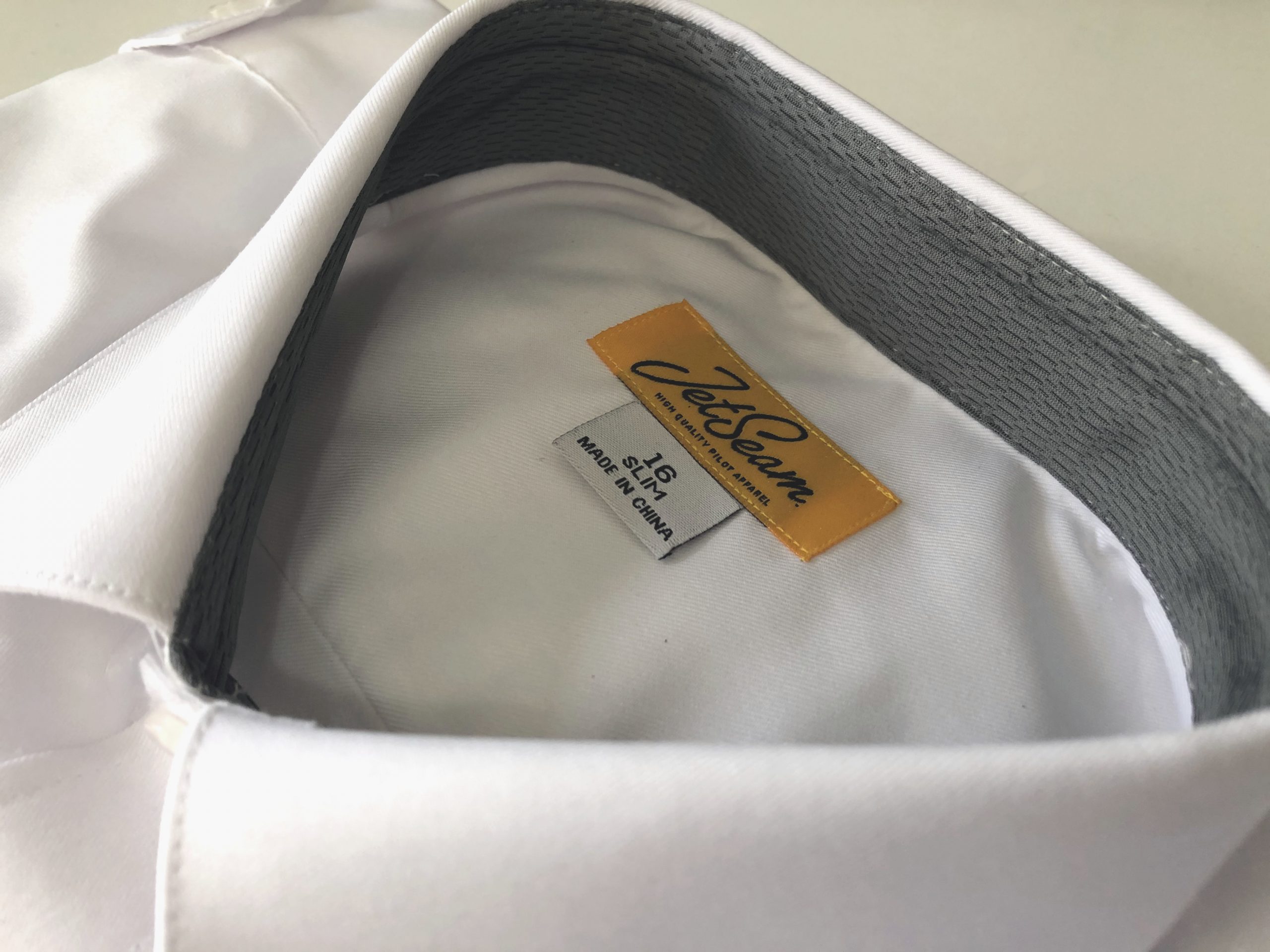 The shirt fabric is pretty good, it's still a synthetic blend but definitely feels more comfortable than your standard Van Heusen shirt. The material is a much higher percentage of cotton than other competitors (up to 60%), which means it's going to feel a lot more comfortable and breathable after a long day of flying. What I did like was the 5% spandex weave which really adds to the flexibility of the shirt and gave me a surprising amount of freedom even in my fitted shirt.
JetSeam also makes a big deal about their bamboo short sleeve undershirts, which I got to try on as well. These are made from a blend of bamboo, modal, and spandex. "What is modal?" I hear you ask. It's made from beech tree pulp and was developed in Japan in the 1950s, it's softer than cotton, and absorbs 50% more moisture. The end result is a super-stretchy and wonderfully soft undershirt which helps to keep the sweat off your main shirt.
Sale
Bestseller No. 1
Olino Pilot Shirt Review
Last, but certainly not least, is Olino, which is a specialty airline uniform supplier dating back to the 1930s. Olino is based in Odense, Denmark and its uniform center is right at Copenhagen Airport. They began specializing in airline uniforms nearly 40 years ago, and have corporate customers across the EU and the middle east.
With an impressive portfolio of airline clients like Qatar Airways, Scandinavian Airlines, Bahrain Royal Flight, Air Italy, and Icelandair, Olino provides both fully customized uniforms for airlines and a standard range of uniforms for B2B customer sales. Unfortunately, Olino does not supply direct to the public or deliver outside the EU currently but is launching global shipping soon, via their webshop, which will be available to anyone outside the EU.
Pros
Very comfortable
100% twill cotton
Great fitting
Cons
Limited sizing customization
I was lucky enough to try out both their Naples and Palermo range of pilot shirts and my first time impression was that they were some of the nicest shirts I've ever worn (either aviation or regular). The 100% twill cotton fabric is seriously good quality. It's incredibly soft, and the diagonal twill weave, as I found out, is actually really important because it has a much higher density than typical shirts. Twill fabric is harder to wrinkle, shows fewer stains, and is more durable.
I even tested this by pouring a few drops of water on the shirts, and the water just pooled on top of the breast pocket without soaking in immediately. You'll be grateful for that next time you spill your coffee down your shirt in the crew transportation vehicle or during turbulence!
The result is an incredibly comfortable shirt, which is breathable, easy to maintain, and surprisingly flexible despite the 100% cotton fabric.
Whilst the shirts are very stylish and comfortable, they don't have any additional reinforcement for the placket or arms, so they're not something you'd be wearing to do any strenuous flying or GA, but that's unlikely to be Olino's target customer anyway.
Sale
Bestseller No. 1
Conclusion
There is no doubt that a pilot's shirt is an integral part of his or her dress, and that the quality of the shirt determines how long he or she will wear it before it gets torn. It's also important to get a durable shirt that will last you for long enough until you upgrade.
Sooner or later you're going to get sick of wearing a cheap off-the-rack shirt, particularly if it doesn't fit that well. You're in your uniform 10 hours a day, why not invest in something more comfortable, that's actually a perfect fit? A custom pilot shirt is a good balance between cost and unique fit.
Pair it with a leather jacket, some good sunglasses, a pilot watch and you're pretty much good to go!