Before you embark on the art of drone surveying, this review is a 'read me first' and the first step as there are important tips you need to know.
Introduction
Drone surveying is the next iteration of automation in the world of drone mapping however if you are considering moving into drone surveying there are some important tips you need to know. Surveying is important and drone surveying is a modern twist on the ancient art that has solved land-holding disputes as far back as ancient Egypt. The 'craft' of drone surveying is a blend of human and machine interaction reducing risk, saving money, and increasing accuracy all wrapped up in a machine with a less intrusive footprint than human feet! If you are about to dip your toe in the drone surveying world, then this article is a must-read first task to reduce mistakes.
What is Drone Surveying?
The move into drone surveying is a shift airborne to overcome the physical problems or limitations the surveyors face. In a Bloomberg survey that looked at the risk that your job would become automated, the job of surveyor came in at 38% likely. Within that 38% sits the upgrade from basic surveying to drone surveying. The role of the surveyor is commonly defined as the 'technique or science of determining the terrestrial two-dimensional positions of points and the distances and angles between them.' In the past it was a human walking around a field using many highly tuned equipment with the information being used in mapping, transport, communications, and legal boundaries of land ownership.
Find Out If Your Job Will Be Automated (bloomberg.com)
https://en.wikipedia.org/wiki/Surveying#Ancient_history
Why surveying is important?
The art of land surveying when you look behind the scenes is about proving the details of an environment to avoid disagreements. It is going to the source 'document' to alleviate hearsay and present facts. The birth of surveying dates back to ancient Egypt where the annual flood of the Nile would move the earth and therefore the marked-out accepted boundaries of land holding. People with expertise would re-determine the boundaries, with the value of their work being rewarded with being declared 'surveyors.' Surveying determines accurate points on earth creating a transparent 'picture' for all interested stakeholders to work with.
What is Drone mapping?
Drone mapping is simply the art of collecting surveying data using a drone. The drone is programmed to follow a predetermined path, recording data as it moves around to create a 2D or 3D picture. They can be flown by a drone pilot or some more sophisticated models can fly autonomously which means flies independently of a human at the controls. Cameras are attached to the drone as it inspects a specified piece of land and takes aerial images and precise measurements. The recorded drone survey data and drone imagery is then analyzed by a drone surveying company and converted into a usable picture tailored for the particular use a client needs.
Who uses drone mapping?
Drone mapping on the surface might be something you consider only surveyors use for property mapping and land. However, its evolution has created its own market in a surprisingly long list of applications. Now worksites especially those that operate over large expanses can benefit in the capture of data to manage projects and people remotely. For example, any managers or supervisors, estimators, equipment operators, business owners, safety officers, and even the accountant who needs to determine profit per acre. Also, drone mapping has many uses in agriculture and wildlife conservation.
Is drone surveying accurate?
Drone surveying is highly accurate, and it is improvements are continually being made in accuracy. As the drone is above the surveying area compared to traditional surveying where the surveying tripod and operator is on the surface there are other factors that need to be accounted for. Some of these elements are the profile of the terrain, weather conditions, stability, the type of drone technology, image overlay, GPS integrity, and the speed of the drone's flight path. The top tier drone manufacturers claim to have accuracy as tight as 1cm. The accuracy of drone mapping is why surveying is important.
https://www.isprs.org/proceedings/XXXVI/5-C53/papers/FP025.pdf
How to become a drone surveyor
If you are prepared to put effort into training, anyone can become a drone surveyor. There are a few steps to take however the main part is obtaining an FAA Remote Pilot Certification under FAA Part 107. The reason for this is safety for all as you will learn about the airspace and other aircraft in the air. Remember, a drone can damage a larger aircraft. Then you will need to purchase the drone best suited to your operation, purchase software to capture the data, and get training. It is an oldie but a goodie, practice, practice, practice!
https://www.faa.gov/uas/commercial_operators/become_a_drone_pilot
What are the best drones for surveying?
There are a number of drone surveying drones, but you first need to do some due diligence to ensure the one you select is fit for your purpose. The best way to figure this out is to talk to more than one drone seller. There are base options available such as single rotor, multi-rotor, or fixed wing versions. Once you have a sense of your needs, then you can drill down into specific models.
Here are some popular options for drone surveying:
| | |
| --- | --- |
| Type of use | Drone model |
| Large scale projects | Wingtraone Gen II |
| Entry level surveying | DJI Phantom 4 RTK |
| Tough environments | DJI Matrice 300 RTK |
| Detailed surveys | Phaseone iXM |
| Lidar capable including underground/inside | Hovermap by Emesent |
While some surveying drones are available on Amazon, due to the technical specifics of this type of drone it is recommended to a drone specialist store whether online such as the D1 store or Deltaquad.
What are the main benefits of drone surveying?
The main benefit and unique feature that drone surveying and drone mapping boasts is the accuracy of the aerial data intelligence. As the need for people power trudging around the land is reduced other important benefits of drone surveys and drone surveying are the reduction of safety risks, increases efficiency, of data collection, and lowers business surveying costs.
FAQs about Drone Surveying
How much area can a drone cover?
Many of the modern surveying drones can cover up to one hundred acres of territory however the UAV rules currently restrict them to operating under VLOS (visual line of site).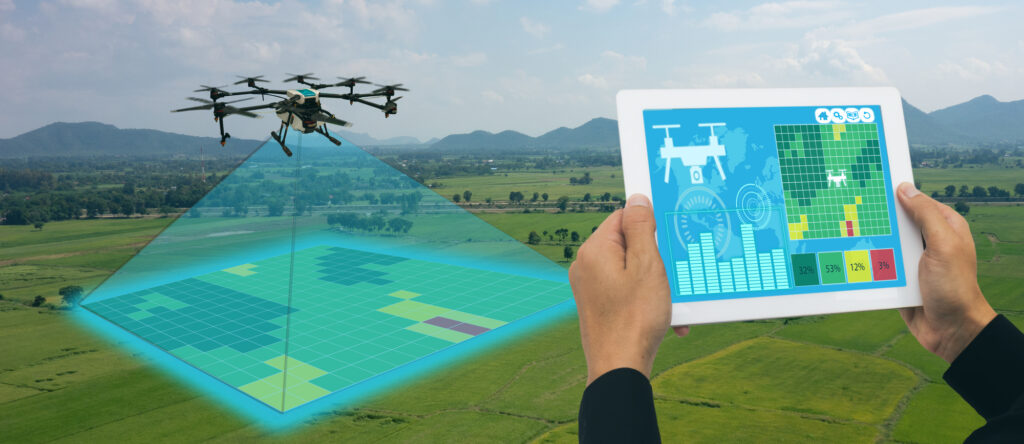 How do drones land?
Controlling your surveying drone into a landing is relatively simple. On the remote control, pushing the stick to the left will cause the drone to descend. Ideally, fly the drone just above your head and push the stick left, and either land on the ground or in your hand. Some drones have an automatic landing feature.
How much does a surveying drone cost?
In most cases, to have drone surveying done by someone else, the cost ranges between $30 and $120 per acre with variables depending upon how many resources are required, the type of environment, and the urgency with which the job needs to be completed. If you are looking to into the avenue to purchase, some of the simpler tech surveying drones can be around USD$5000-$7000 with the highest tech surveying drones reaching up to USD$40000. With drones of this calibre, it is also important to note that insurance cost needs to be factored in as it can be more than the cost of replacement of the drone due to the risk in being close to the ground. Some smaller companies have been known to consider self-insuring.
Will drones replace surveyors?
Drones are unlikely to completely replace surveyors however they will replace some of the tasks. To work at optimum, a human still needs to set the required outcome and analyze the collected data for the desired use. As a concept and service, surveying is important.
Conclusion – Drone surveying
Drone surveying is a positive step in technology as anything that reduces risks for humans is a good thing. Simply put, a drone is replaceable, but a human is not. The accuracy improvement and efficiency that drone surveying provides make it a welcome part of the tool kit for a surveyor or a business. The extent of uses that drone surveying and drone mapping is providing is only scratching the surface and the exciting thing is that with proper training, anyone can become a drone surveying operator. This article can be used as a reference tool as you take the step toward drone surveying as a business tool or occupation. With drone surveying in your toolkit, everything in your operation becomes transparent and less likely to be disputed.