eBusiness Institute Review and explanation of how I make money online at ProAviationTips
The eBusiness Institute is a digital education company that helps people upskill or retrain for the future with high-demand digital focussed skills. They offer a range of Digital Marketing Training courses, certifications and micro-credentials designed to retrain even complete beginners.
I have done all of their courses, and they have helped me to grow ProAviationTips and increase its cash-flow, helping me transition out of the military and into a part-time flying instructing role whilst running ProAviationTips as a passion project and part-time business in the background to generate passive income.
Here's the answer: The eBusiness Institute run by Matt and Liz Raad is great, and they offer in-depth website and online business training courses that have helped me to grow ProAviationTips, allowing me to retire from the military and work part-time as a flying instructor. FREE eBusiness Introductory webinar: How to Buy and Renovate Websites for Passive Income
This website is reader-supported, which means we may be paid when you visit links to partner or featured sites, or by advertising on the site. For more information please read my Privacy Policy and Terms of Use
eBusiness Institute founders – Matt and Liz Raad
Matt and Liz Raad are well-known figures in the field of digital entrepreneurship, primarily recognized for their expertise in buying, renovating, and selling websites. They are the founders of the eBusiness Institute, an organization that offers training and education on online businesses and digital marketing.
The Raads have developed a reputation for their knowledge of digital strategies and their success in the website investment and digital real estate spaces. They are known for sharing their experiences and teaching others how to navigate and prosper in the online business world.
Before entering the digital space, both Matt and Liz had backgrounds in the environmental field as academic biologists who specialized in Australian Red Kangaroos. From there, they transitioned into business ownership seeking more flexibility and control over their careers, however, they found out the hard way that the manufacturing business they used their life savings to buy was actually struggling, and the sellers had 'cooked the books' so to speak.
Through years of hard work and frugality, they struggled but managed to grow a multi-million dollar manufacturing and logistics supply business, which they eventually sold – giving them an introduction into the world of Mergers and acquisitions (M&A). Matt and Liz were drawn to this field, and used their newfound time freedom after selling the business to train and subsequently work as M&A advisors who specialized in due diligence (making sure no prospective business buyer would get burnt like they did!).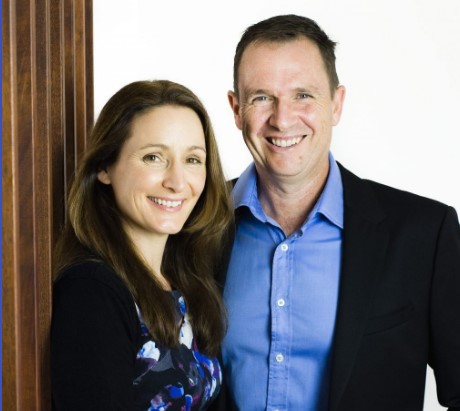 During their time in Mergers and Acquisitions, Matt and Liz began to see an increasing number of deals for online businesses, which piqued their interest and led them to purchase and subsequently build a number of successful online businesses – in some very strange niches such as Pigeon Racing, Knitting and Automotive reviews. Their journey, which began with these quirky ventures in the online business space, led them to recognize the vast opportunities present in digital businesses, including website trading and online marketing.
Since then, Matt and Liz have bought and sold hundreds of websites and make a comfortable seven-figure income by holding and flipping portfolio sites, as well as advising on online business acquisitions up to $20 Million. They are now also loving parents, active community members, angel investors, and generous donors that support causes such as the Food Bank.
They established the eBusiness Institute to share their knowledge and experience with others looking to navigate the world of digital businesses. By running the institute, they aim to provide education and training in various aspects of the online business world, such as buying, renovating, and selling websites, digital marketing, search engine optimization (SEO), and more.
Moreover, Matt and Liz Raad have expressed a desire to help others enjoy the same lifestyle benefits they've experienced from running an online business, including location independence, flexibility, and the potential for financial growth.
Through the eBusiness Institute, they also create a community of like-minded individuals and businesses, fostering an environment of learning, sharing, and growth. The institute's programs, workshops, and courses are designed to help individuals at different stages of their online business journey, whether they're beginners or experienced entrepreneurs looking to scale.
Can you actually make money online with Websites in 2023?
Absolutely! Even though the landscape of making money online continually evolves, the prospect of earning income from websites remains viable in 2023. There are plenty of ways you can make money online, including;
E-commerce: Online selling has skyrocketed in the past decade and shows no signs of slowing down. You can sell physical goods, digital products, or dropship products from other suppliers.
Affiliate Marketing: This involves promoting someone else's products or services on your website. When someone makes a purchase through your referral links, you earn a commission.
Advertising: If your website generates significant traffic, you can earn revenue by displaying ads. Platforms like Google AdSense make it easy to get started.
Sponsored Content: If your website becomes an authority in a specific niche, companies might pay you to write articles promoting their products or to publish their own content on your site.
Subscription and Premium Content: If you produce high-quality content, you might consider putting some behind a paywall. Users would need to subscribe to access this premium content.
Online Courses or Webinars: If you have expertise in a particular field, you could create and sell online courses or webinars.
Membership Programs: If your website offers unique value, you could create a membership program where users pay for additional services, features, or content.
Lead Generation: Some websites generate leads for other businesses. For example, a website might provide information about insurance products, generate leads for insurance companies, and get paid per lead.
Website Flipping: This involves building a website, growing its traffic and revenue, and then selling it for a profit.
Keep in mind that making money from a website usually requires substantial effort and patience. It can take time to build up traffic and develop a monetization strategy that works for your content and audience. Understanding SEO (Search Engine Optimization), content marketing, social media marketing, and other digital marketing strategies is often key to success.
Personally, I focus only on Affiliate Marketing, Advertising, Sponsored Content and Lead Generation, which I think are the easiest ones to do. Whilst they do require some time to set up, once they are established, they only take a little time to maintain, and I get regular semi-passive income as a result.
How I discovered online business through the eBusiness Institute
Military to Entrepreneurship: A Journey Towards Work-Life Balance in Aviation
In the world of aviation, there is an inherent allure of the skies, a sense of adventure that propels us into a profession that isn't merely a job, but a lifestyle. With gruelling and often very expensive flight training, once you qualify as a pilot you enter a whole new world. But as thrilling as this lifestyle can be, the need for a balanced life often nudges us towards new horizons. This is the story of my transition from a full-time military pilot to an aviation entrepreneur, eventually finding harmony between my passion for flying and a desire for work-life balance.
After years of service as a military pilot, the time came for a change of course. The countless hours spent flying military aircraft, being in command under high-stress situations, and adhering to strict military discipline had given me a rich experience. However, the rigorous schedules and often unpredictable nature of military duty presented challenges to maintaining a balanced lifestyle. I wondered sometimes, was becoming a pilot truly worth the cost? It was then I realized the necessity to pivot towards a new direction that would allow me more personal time while continuing to pursue my passion for aviation.
Recognizing the booming digital world and its entrepreneurial opportunities, I decided to start an aviation website named ProAviationTips. The idea was to leverage my extensive experience and knowledge of aviation to provide professional tips, guidance, and insights to aspiring pilots and aviation enthusiasts around the globe. Little did I know then, ProAviationTips would not just be a platform to share my specialist aviation knowledge, but would evolve into a sustainable business, providing a steady stream of income.
The process of creating ProAviationTips was as challenging as it was exciting. I made a lot of mistakes, and for a while, it didn't really go anywhere. I will admit I struggled, as building a website involved understanding the digital ecosystem, learning about website development, content creation, SEO strategies, and online marketing.
I took the eBusiness Institute WebDev Accelerator course which I blasted through in a week, and then I upgraded to the Digital Investors program course, which helped me put everything together and gradually, the website began to attract aviation enthusiasts from all over the world, leading to substantial traffic growth. Monetizing the website through advertisements, affiliate marketing and lead generation content, ProAviationTips soon turned into a profitable venture.
As ProAviationTips continued to grow, it not only provided a significant income stream but also became a trusted resource in the aviation community. It allowed me to take a step back from full-time military service without compromising my financial security.
Simultaneously, I decided to channel my passion for aviation and teaching by taking up a part-time role as a flying instructor. This new role was the perfect synergy between my love for flying and the desire to share my knowledge. It offered the joy of being in the cockpit without the intensity and demanding schedules of military service. It was rewarding to help budding pilots master their craft, observe their progress, and share in their journey.
Today, the combination of ProAviationTips and part-time work as a flight instructor provides me with a perfect blend of professional satisfaction, financial stability, and most importantly, personal time. I have the opportunity to influence the next generation of pilots and play a small part in their success stories, while also contributing to the broader aviation community through my website.
When I am not flying, I participate in the eBusiness Institute Champions mentoring program, and hope that the skills I learn there can help me grow ProAviationTips and take it to the next level. So far, I have been able to take on 5 staff members to help me run the site, and together I think we are doing an awesome job!
This journey has taught me that it's possible to stay connected with our passions while also maintaining work-life balance. As I reflect on my path from full-time military pilot to entrepreneur and part-time flying instructor, I am reminded of the old adage – not all those who wander are lost. Indeed, it's through exploration that we often find our ideal course, as I found mine in the vast, captivating world of aviation.
I am particularly grateful to Matt and Liz, who really helped me turn my passion for aviation into the thriving online business and aviation resource that is ProAviationTips!
eBusiness Institute review: Courses available
the eBusiness Institute do have many online courses available, including
Free eBusiness Institute masterclass – How to buy & renovate websites for passive income
Digital Kickstarters: Introductory course for online business
WebDev Accelerator: Beginner course on website development
Digital Investors program (digital profits program): Intermediate course on online business to build profitable websites
Champions program: Intensive year-long advanced training and high level mentoring package
WebDev Accelerator
WebDev Accelerator is Matt and Liz Raads signature web design course for beginners online. Designed for a complete beginner online, you'll get the foundational digital skills you can use to build, buy and renovate money-making websites or "online real estate", that can become valuable assets you can sell in the future.
By following along the steps, you should be able to build a professional website using a proven site layout template in under two weeks. I was able to complete this course in 5 days, and whilst I am pretty tech savvy I didn't have any previous website training other than some very basic coding I did at University.
Digital investors program (digital profits program)
The Digital Investors Program (digital profits) is designed to take a beginner who knows nothing about buying websites to acquiring and owning a portfolio of websites that generate monthly positive cash flow, so you have the practical knowledge and digital skills to generate income online from anywhere, anytime.
I got a lot out of Digital Investors, it's a pretty comprehensive program and it took me just shy of 2 months full time to work through. Matt says as a guide 12 weeks or 3 months is the full time workload, which makes sense as I do tend to power through things and then have to go back when I get stuck.
With the Digital Investors program there is a lot of add-ons as well, such as events, conferences and bootcamps. I enjoyed the monthly webinars.
Champions program
This has been challenging but ultimately rewarding. Champions goes for 12 months and I have gotten a lot of one on one time, coaching and personal phone calls, and extra training. This is really intensive website investment training.
Matt did challenge me to try and start my own digital agency using my digital marketing skills so that I wasn't just managing my own website – all their students in the private Facebook group seem to do this for local business, but I didn't have much success so just stuck to the portfolio site strategy. I ended up building websites for two local businesses but found that the business model didn't work for me.
I have had fun learning about building websites and during the course went through the process of buying two cash generating websites, learning how to sell websites, and going through the website transfer process. I also learned how to use my existing websites and turn them into profitable sites and build up an automated website portfolio of online assets (website assets) – the website income goes into my bank account every month.
I even became an affiliate for the eBusiness Institute because I liked it so much!
eBusiness institute community
The ebusiness institute has built a thriving online community with several private Facebook groups (depending on which tier you are in) as well as a lot of online events and in-person catch-ups.
eBusiness Institute training prices
Introductory Masterclass: Free
WebDev Accelerator: $997
Digital Investors program: $4475
Champions program: By Invitation only
Events with the eBusiness Institute
Matt and Liz Raad regularly host live events and workshops as part of their training programs. These events covered a range of topics related to digital marketing, online businesses, and website investment. They were designed to provide hands-on training, opportunities for networking, and deeper dives into more complex topics. These included:
Introductory Seminars: These were often free to attend and gave an overview of the opportunities in buying, renovating, and selling websites.
Training Workshops: More in-depth, these usually lasted several days and went into detail on particular aspects of online business, such as website renovation or search engine optimization.
Masterclasses and Advanced Training: For students who have completed their basic training, these events would offer more advanced instruction.
Networking Events: These gave students the opportunity to meet and connect with other digital entrepreneurs.
Due to the pandemic, Matt and Liz shifted to providing virtual events and online training. It's not as fun as the in-person events but I still enjoyed it and was able to network.
Summary of eBusiness Institute review
In summary, the eBusiness Institute's online website training courses are detailed, well-structured, and enriched with practical examples, making them a worthwhile investment for anyone aspiring to succeed in the online business space. Though some content may present a challenge for beginners due to its advanced nature, the rewards for perseverance are substantial. The eBusiness Institute has built an awesome online community which are always helpful and friendly, and they equip you with all the tools you need to be successful online.
Here's the answer: The eBusiness Institute run by Matt and Liz Raad is great, and they offer in-depth website and online business training courses that have helped me to grow ProAviationTips, allowing me to retire from the military and work part-time as a flying instructor.

FREE eBusiness Introductory webinar: How to Buy and Renovate Websites for Passive Income
Frequently Asked Questions about the eBusiness Institute
Here are a few answers to some of the most commonly asked questions I get about the eBusiness Institute
Can Websites Really Generate Passive Income?
Nothing is truly passive because there is still a small amount of time in managing the website content and the business side of the house with invoicing and billings for things like hosting, writers, editors and any tools you might use. However, having said that, once you set up a system, it is a lot less work to keep going. I personally spend about two days a week writing and managing ProAviationTips.
Flipping Websites vs Local Lead Generation
Flipping websites is not a passive endeavor as it does require time to do your due diligence, then planning and executing a website renovation, before finally trying to market and sell the website. I much prefer local lead generation as it is relatively passive – for example here on ProAviationTips we connect students with training organisations and are provided an affiliate commission for each lead generation.
How long does WebDev Accelerator program take?
Whilst I finished the WebDev accelerator program in a week, it depends on how fast you want to take the self paced course. Generally, accelerator courses are supposed to be intensive and completed over a few weeks, but you can speed through it even quicker if you want. It's important to take action, and actually go through the exercises such as setting up your first website.
Why do Matt and Liz Raad Run the eBusiness Institute?
It's pretty obvious that Matt and Liz Raad are multi-millionaires and they don't do it for the money – I think they just really get a kick out of it, and enjoy the status that comes with owning and running a prestigious training organisation with so many successful students.
How many hours will it take to finish the course?
It depends on how quickly you study. I took these courses whilst I was on leave, and personally did the WebDev accelerator program in a week, and then worked through the Digital Investors program in 2 months. Matt says it is designed to be 12 weeks full-time, 12 months part-time study if you are doing 4 hours per week.
What is the digital marketing kickstarter
The digital marketing Kickstarter is one of the ebusiness institutes introductory free tools to learn about building websites. The free training has since been included as a bonus add on to the WebDev or Digital Investors programs
What are the digital investors workshop
The Digital investors workshops are live events held several times per year for digital investor students to network and consolidate skills. They are just the right mix of lesson recaps, student progress reports, presentations from small businesses in the industry, worked examples of analyzing existing websites for their online success, and networking with the rest of the internet marketing mob.
What is search engine optimisation?
Search engine optimisation is about making our digital assets not only visible but optimised for search engines such as Google and Bing. It is not enough to simply build websites and slap up content, we want a high-performance home page and well crafted content that showcases our Experience, Expertise, Authority and Trust in our industry.
Is the Champions digital entrepreneurs masters program worth it?
It depends how much you put into the program, but I definitely think it's worth it for me. I have enjoyed the Champions online course, and taking a much deeper dive into the digital economy and producing online income.