Female pilots are a valuable addition to the aviation industry and slowly it is becoming the norm. Female pilot uniforms thankfully have evolved to fit a woman's shape whilst still projecting authority. Find out what female pilots wear.
Introduction
To understand the evolution of the pilot uniform to include female pilot uniforms, we first need to go back to understand their purpose. The pilot uniform as we know it today was first introduced in the 1930s by Pan American airlines1. This was a conscious shift to raise the pilot's profile and ensure they were recognizable as the authority on an aircraft and command2 respect.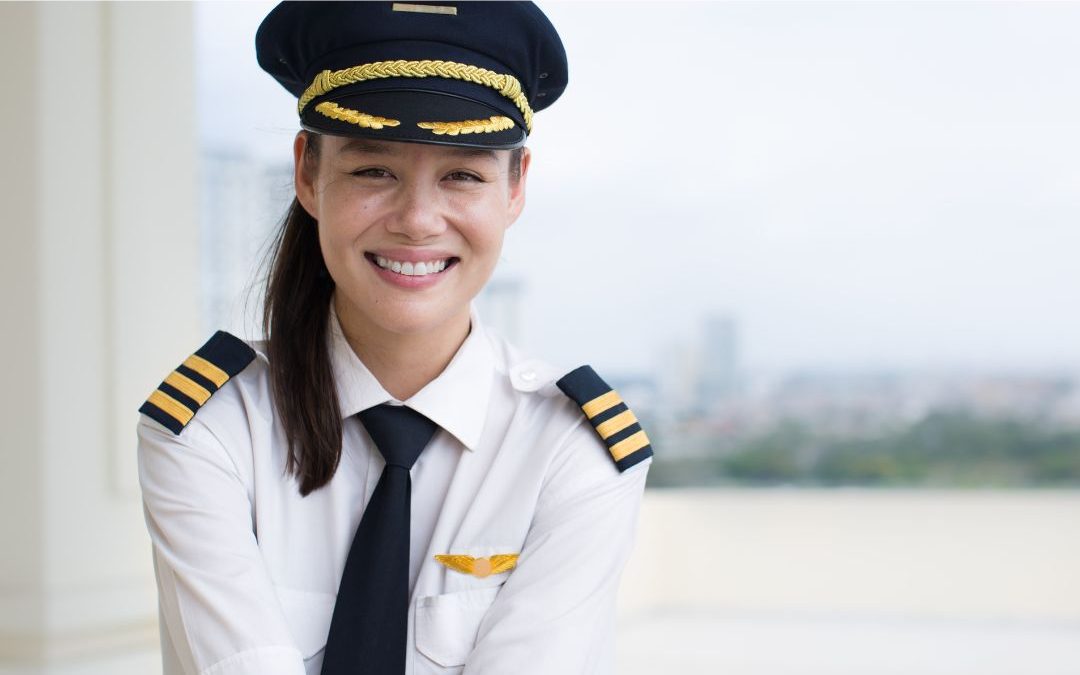 Most visible and important is the pilot hat. What pilots really do is often a mystery to many however the relationship between the passengers and the authority comes down to safety, especially in an emergency. Prior to the suit and stripes we know, the pilot uniform was based on military-style being the tan pants, leather jacket, and scarf … very red baron!
Slide it forward some years, more women pilots entered the world of aviation and with their arrival the women's pilot uniform emerged with many variations. This article is a history lesson from having to dress in men's uniforms to the classy options available today.
What do female pilots wear?
Female pilots need to meet the same proficiency standard as men. The aircraft does not care about gender, if you follow procedures and make the correct actions, the outcome is usually positive. When it comes to what the pilots wear, it does not mean male and female pilots need to dress the same. If we break it down, it is simply a suit tweaked to present as a uniform.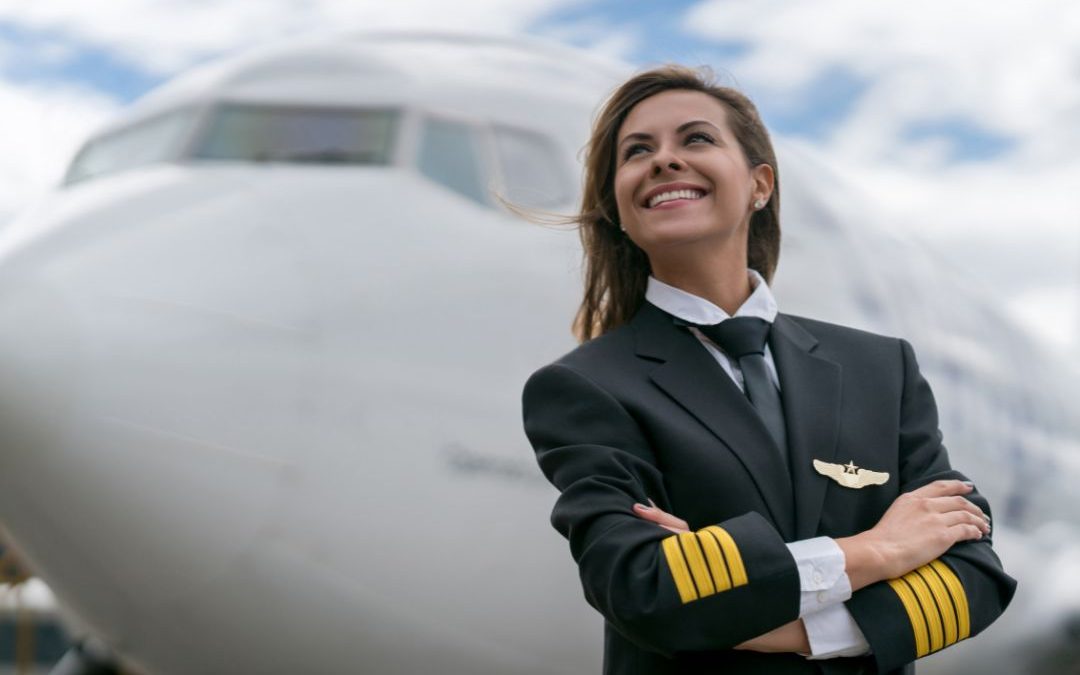 Mostly the shirt is white and although in the early days many female pilots were issued with male shirts as that was all the uniform department had, eventually it became acceptable to accommodate the female form and the design evolved to fit the 'obvious' differences. Many airlines have a female pilot uniform option for pants, culottes, or a skirt. For around the neck, historically women pilots wore ties until the introduction and return to the days of old and the scarf. The leather jacket, for the most part, was replaced by the suit jacket, with stripes embroidered onto the sleeves however for women pilots this meant the same look but in a feminine cut.
The hat design also evolved from wearing a man's hat eventually to a slighter more flattering cut. Finally, footwear, and what a pilot wears needs to be practical to freely use the rudder pedals. Mostly the female pilot uniform includes flat shoes or boots or less commonly, a low heel.
How is a female pilot uniform different to a male's?
There is not a lot of difference between what the male and female pilots uniform projects as both still need to exude an air of authority.
If women employees choose to wear pants, they are designed and cut for a woman's shape. More obvious to a passenger in a terminal is the skirt or culottes3, the culotte having the look of a skirt with the practicality of a pant, which option to wear is up to the individual. For comfort when climbing into and out of the pilot seat, generally pants are the most popular. The cut of the shirt is feminine and more female pilot's uniforms are decked out with a soft scarf usually held together by a press stud.
To bring the authoritative look together are the epaulettes and wings. The epaulettes sit on the shoulder of a pilot and are gender-neutral but a rite of passage to wear for every pilot. When a pilot upgrades from First Officer to Captain, being handed your four stripes is a proud moment to remember. Wings are also gender-neutral and a joy to receive when you pass your flight tests and earn them.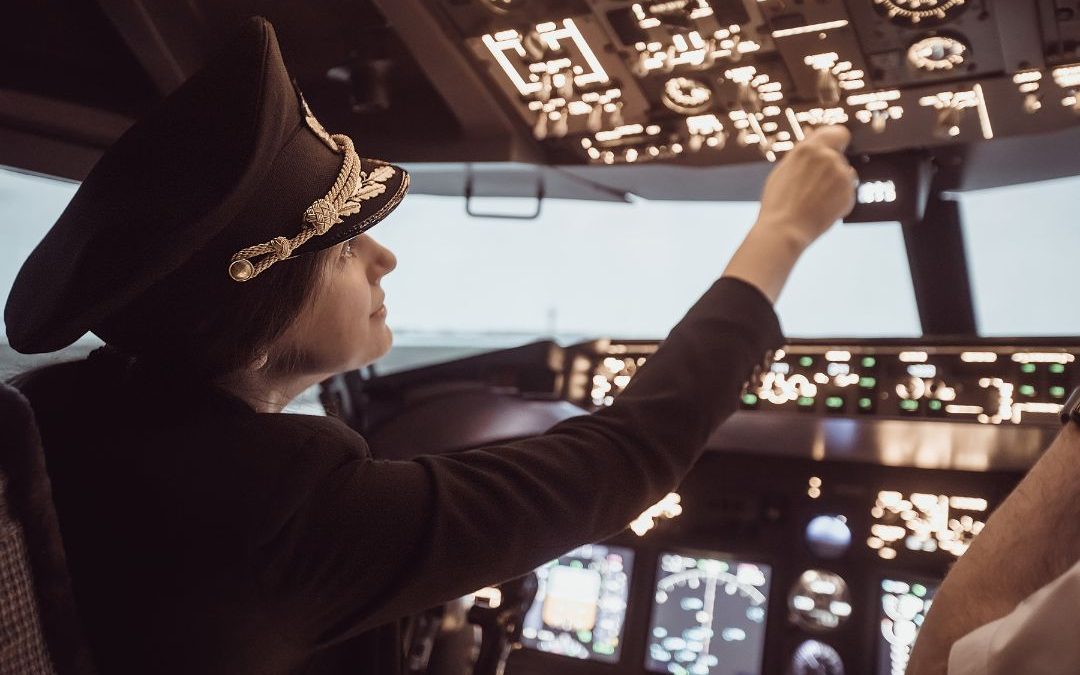 Do female pilots have options when it comes to uniform?
In the early days, especially in smaller companies, female pilots may have been given an allowance to go and buy their own as the uniform shop4 in airlines did not carry much in the range when there were fewer female pilots. Now there is a choice and most carriers have a full range of pants, culottes, or skirts with the tie or scarf option a bonus.
The other option which had a slow start was what to do with female pilot uniforms when pregnant. This development early on resulted in the female pilots finding their own solution, most electing to wear their shirts untucked and their jackets open. Thankfully, a purpose-designed maternity shirt is now found in most airlines.
Where can you buy female pilot uniforms?
In the modern era we are in, female pilot uniforms are available at all pilot supply shops. With the number of female pilots increasing, there is some dedicated female pilot uniform online stores.
Usually there is a flat rate charged for shipping, but each retailer will have their individual shipping fees.
How are female pilots expected to wear their hair?
Grooming guidelines for all pilots are contained within the company manual. As a general rule and in days gone by, hair longer than shoulder length was to be tied back. In more recent times, a few women pilots are choosing to wear their hair loose which is a personal choice. Most however wear it back because, on an early start, the last thing they want to spend time on is having perfect hair especially if they are doing the first walk around the aircraft on a windy morning!
The FAA5 does not have specific guidelines for female pilots however for government staff, a good indicator is to be 'neat, clean and business like'.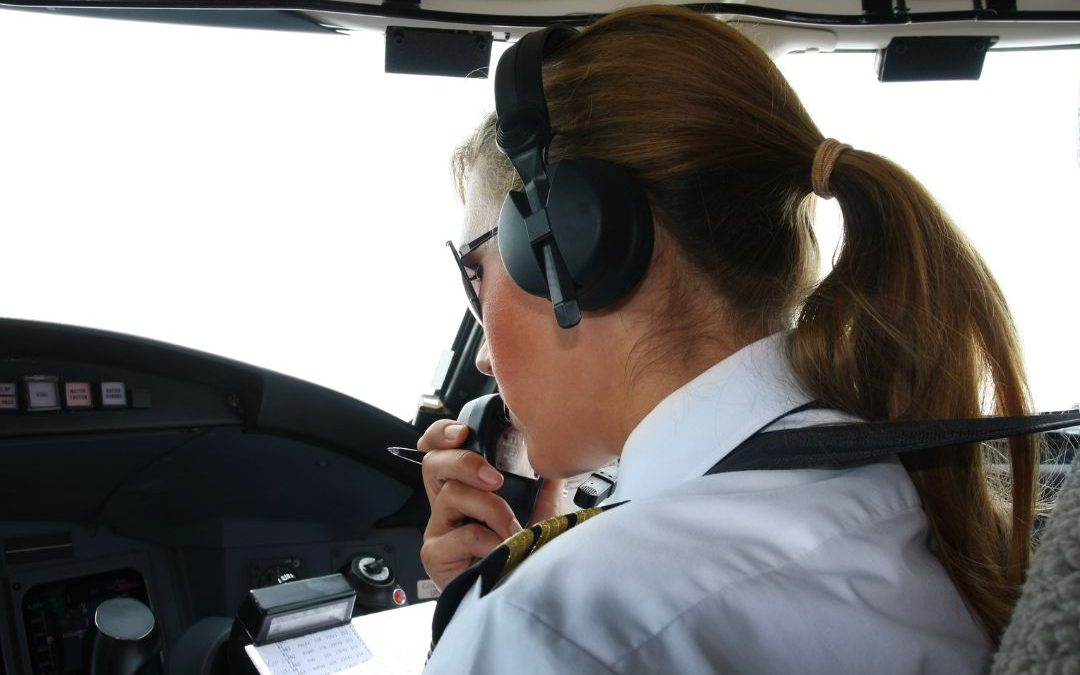 "Personnel must maintain a neat, clean, businesslike appearance during working hours. Personal grooming and clothing must be appropriate to the conduct of Government business."

faa.gov/air_traffic/publications5
How much do female pilot uniforms cost?
To put together a female pilot uniform in total with pants, pilot shirt, scarf, epaulettes, hat, wings, and shoes will set back an airline anywhere up to USD$600 depending on how many sets of pants or culottes the pilot is allowed and what sort of deal the bulk buy of uniforms can attract.
When starting out, the cost of uniform is often borne by the pilot and some low-cost carriers have been known to charge the pilot for a uniform. Check with your trusted accountant to see what parts of the uniform and dry cleaning services may be tax deductible.
What are the best female pilot uniforms?
An extremely positive consequence of having many suppliers of female pilots uniforms is the fact that there is a need! For women who flew over 30 years ago, the options were sparse. If you are purchasing a woman pilot uniform from your own pocket, then to find the right fit and look the best idea is to go to an aviation supply store that has many options to try.
When sitting for as long as pilots do, comfort is important. Jetseam6 female pilot pants have a four-way stretch and shirts have been designed and tested by women for women. Definitely worth checking this store out.
Another feel-good reason is Jetseam's 'Miracle flights' where a portion of the sales of pilot uniforms goes to commercial flights for people in need of critical medical care.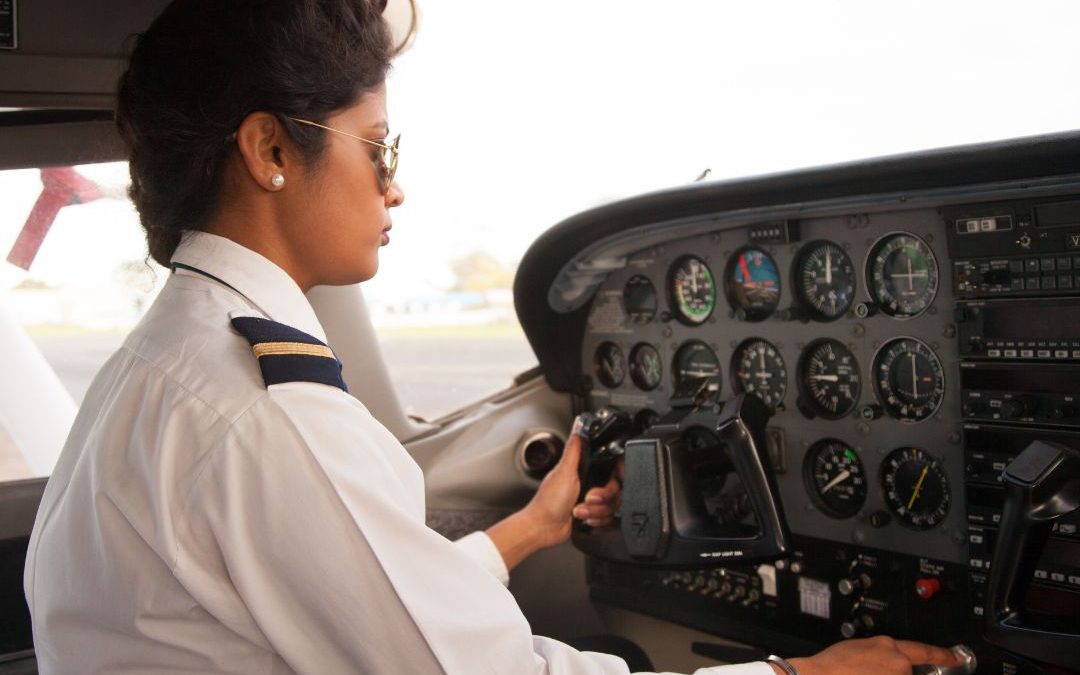 Conclusion
The evolution of the female pilot uniform brings with it a confirmation of the number of women entering the aviation industry. From the early days when there was a fight for women to even participate in aviation, to have an abundance of choices for female pilot uniforms demonstrates that it became ok to embrace being female.
The aircraft does not and will not ever care about the gender of the pilot, however, the pilot does not have to compromise on who they are. Seeing a stylishly dressed female pilot walking through the airport makes me proud but I look forward to the time when they get noticed more for being the commander of an aircraft and not a novelty shock when spotted for the first time.
Reference List: