When pilots think of flight helmets, the image that usually comes to mind is not Maverick from Top Gun, but sweaty hair and a headache. Should you wear a flight helmet when you fly a plane? Most of the time the answer is no, but there are several times you definitely want to wear one for your own safety.
Why you should wear a flight helmet
Before I go through the scenarios where you should wear a flight helmet, have a think about the following:
On a motorbike or a bicycle, if something happens and you get hit in the head, you can generally stop, pull over, seek first aid or recover. In the air, if you have a head injury, you still have to fly the aircraft, maintain control, and land before you can get treatment.
What is the top speed you'd normally be traveling on a bicycle? 20 mph? What about a motorbike? 70 mph? And what's the top speed for a small GA plane? 180 mph (160 kts)? So which one is going to cause more damage if you crash land?
Let me be clear, 90% of the time when I fly, I'm not wearing a flight helmet. That's because there is no need when I am thousands of feet above the ground well above the transition level (but yes I know about the Canadian Migrating Geese and have heard the stories too…). There are types of flying when you definitely should be wearing a flight helmet, and it could save your life, these include:
Agricultural flying or crop dusting
Low flying such as survey work, bird scaring or low nav's
Warbird operations
Some military flying
Helicopter operations
Aerobatic and formation flying
Test flying
Flight Helmets protect the pilot's head and eyes. The helmet protects pilots from hitting their heads in the cockpit, visors protect the pilot's eyes from harsh sun rays and from debris caused by potential bird strikes or in an accident, they also incorporate a headset and microphone so the pilots can communicate.
Modern flight helmets also provide a mounting point for Night Aid Devices such as night vision goggles, and top of the range military fighter pilot helmets1 also incorporate state of the art targeting assistance systems.
During an accident, one of the most likely causes of pilot deaths is incapacitation due to trauma. Simply put, whacking your head with enough force to kill you, knock you out, or sufficiently concuss or daze you to the point where you can't escape from the wreckage. Wearing a flight helmet gives you vital protection and the best chance at surviving.
Do flight helmets actually work?
There's a common misconception that since you're flying so fast in an aircraft, a crash will kill you regardless of whether you're wearing a flight helmet or not.
However, there are two problems with this theory. Firstly, a flight helmet is intended to protect your head from trauma in the air, not just in a crash. Secondly, a flight helmet will actually provide some protection in the event of a crash. In fact, an Australian pilot's life was saved in a crash because he was wearing a flight helmet.
In 2017, a pilot conducting crop-spraying in an M-18 Dromedary crash-landed in North-Queensland2, Australia after encountering turbulence during low-level flying. The Australian Transport Safety Bureau found that the pilot's flight helmet struck the internals of the cockpit when the plane flipped over on impact with the ground. Wearing a flight helmet most likely saved the pilot's life.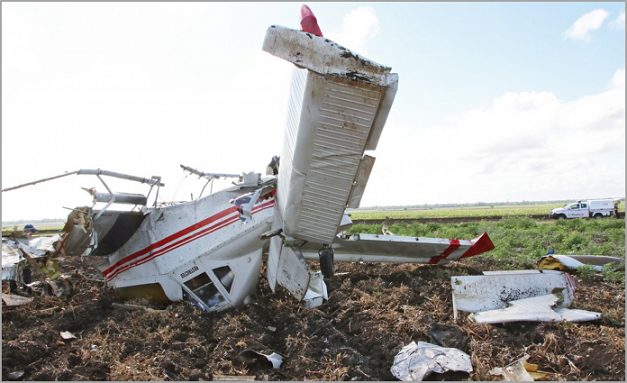 The risk of a bird strike is ever-present during flying operations3 and is especially relevant when flying at a low level, such as survey, agricultural or military operations. An injury from a bird strike could be serious; the blunt force could kill you, knock you out or concuss you, or seriously damage your eyes leaving you disabled or blinded meaning you could never fly again.
Pilots seem to think bird strikes won't happen to them, but it happens frequently. At the time of writing this article, at my local airstrip, there have been four serious bird strike incidents within the last two months. Two of these resulted in serious structural damage that grounded the aircraft for months, and the other two resulted in engine/propeller changes.
Why don't pilots wear helmets?
Some pilots don't wear helmets for a variety of strange reasons. Some people claim they don't like the weight of the flight helmet, that the helmet is hot, or that they are too expensive. Evidently, they feel invincible in the aircraft, and falsely think that their seat belt and a thin bit of plastic windscreen is going to protect them in an accident. The reality is that the energy involved in an aircraft accident is much higher than even a highway car accident.
Kinetic energy is proportional to the square of velocity. For example, a typical General Aviation aircraft flies at 120 knots which is about 140 mph. Compared to a car traveling at 70mph, the aircraft is flying twice as fast; doubling your speed increases the kinetic energy by the square of this number, so in this case, it is four times greater. In the case of higher performance aircraft such as warbirds traveling faster, this can be significantly higher.
Pilots are often falsely influenced by their experience in other nonflying activities, where if you have a head injury, you can stop. For example football or other sports, or even riding your motorcycle. If you take a knock to the head, you stop the activity and seek medical attention.
In-flight a knock to the head could be fatal or seriously daze and confuse you. This could happen whilst conducting aerobatics, in severe inflight turbulence, from a birdstrike, or even from a loose item or FOD in the cockpit. If this happens, you will still need your wits about you to return to base or divert to your nearest suitable alternate and land the aircraft. Without a doubt, your judgment and therefore safety is significantly impaired after receiving a head injury in flight.
Sale
Bestseller No. 1
When a flight helmet nearly saved my life…
Many times during civilian flights (as a pilot, photographer, or simply a passenger), I was passed the pilot's spare headset to wear. However, due to the nature of the flying, I instead insisted on wearing my own flight helmet. These sorties consisted of low level, close formation or warbird flights.
One pilot complained to me about how uncomfortable his flight helmet was, and I still insisted on wearing mine, and then, in turn, he did as well. Peer pressure in this instance was used for good. It's best to get your helmet professionally fitted, and adjusted and serviced often. Don't complain about discomfort – get it fixed! Don't use this as an excuse not to wear it.
During one photo flight, our undercarriage collapsed upon landing, and the propeller dug up the dirt only a few feet in front of me. It was an unintentional STOL landing – we stopped very fast indeed. During the few seconds of plowing, I actually thought to myself "Lucky I'm wearing my flight helmet – if we flip over I just might survive this." Also, my harness was locked, I had a layer of cotton underneath my flight suit, my flight helmet visor was lowered, and I wore my flying gloves. And I think I shrunk down about another two inches into my seat.
The pilot's first words were "OK Mike, we have an emergency", and I thought "No kidding!". That's when I thought about the aerobatic fuel tank just in front of me. Milliseconds later we leaped out gracefully and upon noting that there was no fire, I reminded the pilot that he initially insisted I simply wear a headset – whilst he himself wore a flight helmet.
Helmets seem expensive, however considering that they can protect your head during turbulence, forced landings, midair collisions, and bird strikes, then they are really a cheap investment. Sure, they will not help you during the most violent of accidents, however, for the previously mentioned incidents, they could mean the difference between life and death, or saving your family from having to perform most daily activities for you in the event of a severe head injury.
Whilst helmets can be bought used from eBay and the like, I'm personally against this 'cost-saving' measure myself. The helmets may have been struck from the military stock, because of damage such as hairline cracks, and the entire comms equipment will have to be replaced to suit civilian radios. Also, the fit has to be done properly, and buying 'online' from a second-hand dealer will not get you the right size. Lastly, if it comes with a visor, then wear it with the visor lowered. It's there for your protection. If it's left up, it's useless.
I'm personally about to trial a new flight helmet from Europe, from Custom Flight Helmets. This Carbon Fibre HORUS helmet is built with cooling air ducts, with military-style visors, and has the option of being compatible with military-style masks if needed. Stay tuned for my review of this exciting new product.
How to correctly wear a flight helmet
Your flight helmet is not a fashion item. It's there to protect you and save your life, so treat it with respect and make sure you wear it appropriately.
Make sure the helmet is fitted and sized appropriately4. You need to measure your head and get an appropriate base size, and then use the supplied padding to customize it to your head size and comfort level. It may take a lot of trial and error to get the fit just perfect and work through those annoying hot spots.
Make sure your chin strap is done up (not uncomfortably tight but). Make sure this becomes part of your pre-take-off vital actions
Pilots also have one or two visors to choose from (wear clear for night-flying and wear both clear and smoke for day-flying). Make sure the helmet visor is worn down! This means removing your leather cover and stowing it appropriately. Many pilots wear the helmet visors up and use some RayBans – whilst this might look cool in movies or show off to passengers or customers, any pilot worth their salt will know how silly you really look; this is like riding a motorbike with your leather jacket unzipped and your boots off! Visors can be replaced – eyeballs can't!
Helmet liners are a great way to keep your helmet fresh and will absorb sweat, keeping you cool and providing another layer of comfort.
Bestseller No. 1
Maintenance of a flight helmet
Don't drop your flight helmet! Treat it with respect, and keep it out of the sun when not being used (preferably in your padded flight helmet bag). If your flight helmet gets dirty, wipe it down with a wet cloth only; do not use cleaning products on your helmet.
Use the leather or visor cover that came with the flight helmet when you are not using it, including when getting in and out of the aircraft. Invest in a quality padded flight helmet bag which you should place your helmet in before leaving the cockpit.
To clean your lens, wipe the lens down with a high-quality microfibre cloth. Avoid the use of any cleaning products, this will prolong your visor's life and prevent scratches and grazing which will reduce visibility. If needed, visors can be replaced fairly cheaply – remember your eyeballs cannot be replaced.
Maintenance is important – life support fitters need access to parts. some logistics chains are bad, and I have heard horror stories of customers waiting 6+ months to get their flight helmet returned from service. You should choose a supplier with access to local qualified life support technicians and a good supply chain for spare parts, or you might find yourself grounded until your flight helmet is fixed.
General flight helmet purchasing tips
Don't buy a second-hand flight helmet as you don't know if it's been dropped, or the true age of the flight helmet. It's important to remember helmets protective shell have a life-span (usually around 15 years)
Sizing is important, if you are on the fence between sizes get a helmet slightly larger than you need. This can be padded out with internal soft foam which will prevent hot spots and provide comfort, whereas a helmet that is too small will be uncomfortable and place pressure on your forehead, nape, and ears.
Make sure you buy a flight helmet that is suited for your kind of operation; if you are an agricultural or light-sport pilot, buying a helmet that is designed for fast jet ejection seat pilots may not be appropriate. And in this case, the lighter-weight ejection seat helmet may not provide you with an adequate level of impact protection (as they tend to be much lighter construction to protect a pilot's neck from excessive g forces during an ejection).
Remember too when you buy your helmet, many won't be fully complete. Some will be just quoted for the shell and you need to buy the Visor, visor covers, Avionics, Ear-cups, Microphone, lip light, cords, and padding separately. These can easily add up to many thousands and exceed the cost of the shell several times, especially if you are opting for Active Noise Reduction (ANR) ear-cup technology.
Consider where you are purchasing the helmet from. If you are purchasing from an overseas supplier, you will also likely be up for import taxes as well as the currency exchange rate. Remember that maintenance is important for flight helmets, and having an 'in date' inspected and approved flight helmet is the subject of many company regulations (for example government SAR helicopter contracts). You want to make sure your supplier will be able to provide through-life support you'll need.
Sale
Bestseller No. 1
Top 3 Flight Helmet Recommendations
Now the part you've been waiting for. I've been fortunate enough to fly in over 100 different aircraft types, across many different mission profiles – low-level sight-seeing, aerobatics, fire-spotting, passenger flights, air-transport and more. As a result, I've had to wear a variety of different helmets for the job, and I can give you my personal recommendations for choosing the best flight helmet.
Best Overall Flight Helmet – MSA Gallet5
Gallet helmets are unquestionably one of your best options for flight helmets. They are comfortable, adjustable, low maintenance and once configured need minimal input from a life support technician. Gallet helmets are manufactured in France and they offer provides a range of helmets suited to different flight roles which start at around $4000. The MSA Gallet comes in 4 different categories / models depending on your flying type:
LH-050: Suited to agricultural, sport pilots or crew-members who don't need accessory mounts for equipment such as night vision goggles
LH-250: A rugged, lightweight and adaptable flight helmet
LH-350: Specialist flight helmet designed for military and SAR pilots
LA-100: A newer design flight for the unique needs of jet operators.
I have only flown over 400 hours wearing Gallet helmets, so mine is still practically new. This was around 100 hours in the LH-250 helmet undergoing some very rigorous training (general flying, aerobatic and instrument training), and over 300 hours in the LH-350 conducting warbird formation, aerobatics, and adventure flights.
My Gallet LH-350 came from MSA as a complete bundle and was ready to wear out of the box. From my personal experience, their website and customer support were very good through the initial purchase. Sizing is really important and chatting to their qualified life support fitter made figuring this out pretty easy and stress-free. Their post-purchase customer support has been fantastic and I couldn't fault them when I needed to replace a visor (that got damaged by FOD in the cockpit!).

I personally chose a matte drab green LH-350, which minimizes reflections and in cockpit glare. I have noticed other pilots wearing helmets with gloss white finishes who claim it reflects more heat and so is cooler to wear especially during the day in summer, but they do complain they suffer more reflections in the flight deck.

In terms of cost, this will vary depending on which model you need. For the base model LH-050 with standard comms, you're looking at starting about $3922, and $4750 for the more feature-packed LH-350. There are many suppliers globally that may have promotions, where you can purchase Gallet helmets.
The flight helmet life is quoted at 15 years and has excellent through-life support and maintenance. When the shell time expires, their life support fitters are happy to transfer your avionics into your new shell.
In summary – the Gallet MSA helmets are my pick. Yes, they are expensive however they are one of the best helmets on the market in my opinion, and personally my head is invaluable!
Gentex HGU helmet
The Gentex Helmet General Use (HGU)6 is manufactured in the USA and the HGU-55/P is one of the most common military flight helmets. These are a lightweight flight helmet designed for the specialist needs of military pilots who deal with high-g combat environments or fly ejection seat aircraft. Its flexible construction protects you from impacts and it features a dual visor assembly on elastic straps.
Whilst designed primarily for jet pilots, this flight helmet is a great lightweight design that could be used by almost all pilots. If you can get it is another thing – access to purchase may be controlled by international trade and postage regulations as it is an actively used military item.
It should be noted, I have flown nearly 1000 hours in my original Gentex 55/P, and it's one of the most comfortable helmets I have ever worn. The fact that the shell is constructed to be flexible and lightweight are probably my two most favorite features, which make my longer sorties just as comfortable as wearing a Bose A20 headset.
The HGU-55/P shell starts out at about $1300, however all the required accessories (visor, chin/nape strap) and avionics (earcups, microphone etc) still need to be added to your cart, and can add up to over another (USD) $2000, meaning you're looking at over $3000 prior to taxes and shipping.
Alpha helmets are made in the UK and come in 5 modular sizes to ensure an accurate fit. They are a very common flight helmet in General Aviation for both Fixed wing and Rotary wing pilots, and provide all the essentials with the ability to incorporate accessories such as face shields for crew members.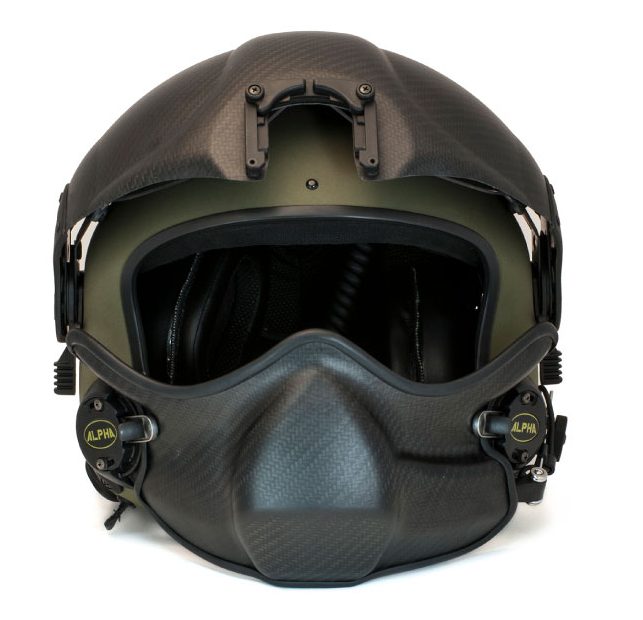 Whilst I haven't personally had any experience with Alpha helmets, my flying instructor uses a carbon layup finished Alpha. He has used his for over 10 years and swears by it, having flown thousands of hours using it.
Whilst they aren't the top of the range flight helmet you might get in a Gallet, they are very cost-effective and dual visor helmets start at $1820 for a complete sales package.
Sale
Bestseller No. 1
Summary
In summary, a flight helmet is an essential piece of safety equipment for pilots, especially if you operate in an environment with increased risks such as low level, formation, high speed or aerobatic flying. A flight helmet is going to give you impact protection, and hopefully, our detailed review has given you an idea about your options. If you have any questions or comments at all, pop them in the comments below!
Reference List: