There are many reasons why you would want to track a flight; from knowing when your flight will land or when your aircraft will become available, through to Tracking family and friends flights. For whichever purpose you are using them for, flight trackers give peace of mind to travelers and family and friends alike.
Online Flight Trackers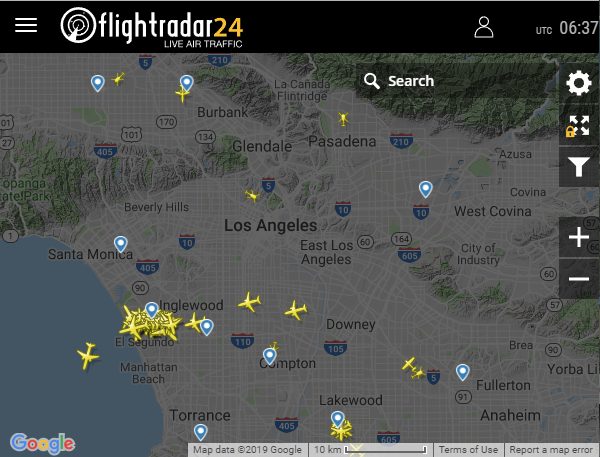 Many online general aviation flight trackers can access live information databases through air traffic control systems; ADSB compliant transponders identify aircraft with their Callsign, altitude, track and speed (amongst other things). This information can be graphically or tabularly displayed to users, who can then use it to track the flight. This is a type of passive general aviation flight tracker; they don't require specific input from pilots or crew as they piggyback off already established systems. Examples include flightradar and flightaware.
GPS flight trackers
Some other general aviation flight trackers make use of GPS beacons to track individual flights. These are classified as active general aviation flight trackers, as they require active participation by the pilot. This can be done through specific stand-alone devices with GPS and a satellite communications system (usually through the Iridium network).
GPS flight trackers are similar to the tracking systems used by hikers, backpackers, and cross country skiers. These need to be charged, taken with and turned on by the pilot. These flight trackers communicate to GPS satellite constellations similar to your TomTom or Navman car GPS and link to websites which viewers from home can access.
Our favorite GPS flight tracker is the Garmin inReach Mini. It has a satellite connection that lets you communicate with friends and family and can trigger an alert in the event of an emergency. It can also connect to your phone, allowing you to message people through the Garmin app.
If you're looking for even more support, a commercially monitored example is spidertracks, which once fitted to the aircraft can be viewed on any internet-capable device for tracking costs around USD $2 per flight hour.
Hybrid Flight Trackers
Other types of general aviation flight trackers are a combination of both online and GPS, as they use both internal GPS components which link to established database systems. An example is the phone app 'general aviation flight tracker' which is meant primarily for general aviation GA pilots flying under 10,000 feet. This app combines GPS signal with a cellular phone network on a compatible device such as iPhone or galaxy to track a user's position, altitude and speed, which can be seen by other users on the network.
Apps such as Ozrunways, which is an Australian Electronic Flight bag application, combine exactly the same system as the general aviation flight tracker app, with the ADSB transponder outputs from larger aircraft such as airliners acting under the instrument flight rules. This also gives the pilot situational awareness on nearby traffic. Examples include the General aviation flight tracker (app) and Ozrunways and AvPlan both offer in-built traffic functions.
---
What flight tracker do you use for flying? If you use another service we haven't mentioned, we'd love to hear from you! Let us know in the comments below.