In this London Fog luggage review, we will take a look at where the luggage is manufactured, if London Fog is a desirable and luxurious brand, the features of London Fog luggage and where you can buy it.
The Good
10-year limited lifetime warranty
Many styles and choices available
Upmarket, high quality style
Lots of compartments and pockets
Very lightweight
8 wheels for easy maneuverability
Many quality features, as listed below
The Bad
Doesn't have a huge range of larger bags for more adventure style trips
Not as waterproof as other options
On the pricey side for luggage
Not available on the London Fog website itself
Verdict: London Fog are on the expensive side for luggage but do offer a high quality product with undeniable style.
Introduction – London Fog Luggage Review
London Fog luggage is part of the larger and much-loved London Fog brand which is a high-end and iconic fashion label in the U.S. Founded as Londontown Clothing Company by Israel Myers in 1923, the Baltimore, Maryland based clothing manufacturer became a provider of waterproof coats for the U.S. Navy during World War 2. London Fog's Wikipedia page provides an interesting overview of the company's history.
Fast forward to 2022, and London Fog now offer a range of clothing, footwear, handbags, duffel bags, garment bags and lightweight luggage for consumers. Their chic luggage range is popular with jet-setters around the globe and this London Fog luggage review will explore why.
Where is London Fog luggage manufactured?
London Fog has an interesting history in regard to where their garments and luggage offerings are manufactured. The original location for manufacturing was in Baltimore, Maryland however in 1976 they changed location to Eldersburg, Maryland. In 1994, London Fog made the decision to move their factory to Connecticut, only then deciding to return back to their Eldersburg location a year later.
 The manufacturing facility remained in Eldersburg until it shut down in 2002 and production was moved to China, where it remains to this current day. The reason for the closure of the factory was cited as high production costs compared to facilities abroad, with costs sometimes coming in at $10 a garment cheaper in Chinese factories. Although manufacturing now takes place abroad, the luggage and apparel is still designed in the USA.
Is London Fog a good brand for luggage?
I wish there was a short answer for this, but unfortunately, there isn't! The vast majority of the answer to this question lies in what type of trip you are taking. If you're looking for a short city break, then the collection from London Fog luggage could be just what you're looking for and a stylish way to make a statement as you touch down at your destination.
However, if a 2-week trek through the Andes is more your thing then it might be worth putting some consideration into keeping your London Fog bags at home on this occasion. It is probably quite fair and reasonable to assume that London Fog luggage wasn't designed and built for the ruggedness of an adventurous trip.
In terms of bang for your buck, however, London Fog luggage is built to last. With a 10-year limited lifetime warranty, London Fog showcases its confidence that its product will withstand the mercy of the baggage handler. So, if short city breaks or business trips are more your things then London Fog luggage is most certainly an inspired choice, with many a cabin bag, duffle bag, garment bag available, plus plenty of options for carry on luggage.
Is London Fog a luxury brand?
London Fog can definitely be described as a luxury brand, and it certainly has the price tag to match. Their offerings in the clothing space are luxurious and their luggage is no different. Most of their cases are for the more refined traveller as mentioned above with short trips to Paris or a business trip to New York the target audience.
Well known department store chains, such as Macy's, stock London Fog bags and on their website they proclaim, "Become a jet-setting trendsetter with the right luggage, such as pieces from London Fog. Exude the kind of cool, confident air that ends in an instant upgrade, just for looking the part." They go into further detail in their worship for London Fog luggage, which can be found here.
  London Fog luggage just has that look about it. Their Queensbury softside range has an elegant royal blue material with gold coloured stitching fit for royalty. Their Oxford III bag looks like the offcut of a distinguished English gentleman's tweed jacket. They look and indeed are, the real deal.
The London Fog Cambridge II carry on bag is a great example of a classic style, soft side luggage, which has interior shoe pockets, zippered mesh pocket on the lid, spinner wheels and generous packing space. The whole Cambridge collection has a timeless, classic style.
London Fog features
London Fog comes with some neat features too which add to the lux of these bags. Most of the bags come with '8 low-profile recessed spinner wheels' which makes walking through airports with your luggage a breeze. After all, we've probably all experienced the bag that has dodgy wheels which leaves you almost dragging your luggage over terminal floors.
Their bags also come with neat zippered pockets which makes packing for trips a lot easier, as well as elastic tie-down straps, exterior pockets, EVA foam padding, aluminum channel tubes, skid guards, a TSA flush-mounted lock, corner guards, a locking push button handle and plenty of space for all your stuff. No more finding your toothbrush inside your gym shoes, these bags help you organise your packing a lot better than your standard suitcase.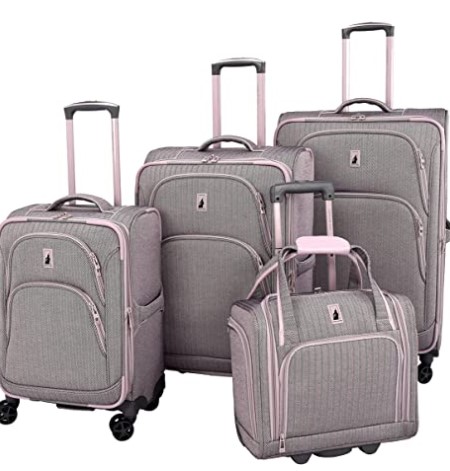 Some of the smaller London Fog bags will also have an adjustable shoulder strap, plenty of pockets inside, a self-repairing nylon zipper, an ID pocket slot, exterior pocket and will be easy enough to fit underneath most standard airline seats.
On top of all of this, London Fog luggage is extremely lightweight, as it is made from lightweight polycarbonate material. This allows you to move your luggage around that little easier and leaves you less susceptible to going over your luggage allowance and getting stung for half your spending money before your trip has even begun. It also means it's easy enough to stow away in that overhead compartment.
Is London Fog luggage waterproof?
Unfortunately, all good things have their flaws and London Fog luggage is no exception to the rule with their bags not being completely waterproof. The majority of their luggage is material instead of some of the typical hard plastic cases that you see thrown onto luggage carousels worldwide. The material, whilst it looks great, won't offer you that protection if you're visiting England in winter or Mumbai during the monsoon season. It may have a water repel feature that offers some protection but not completely waterproof.
There's no guarantee of protection either against baggage handlers throwing your bag on top of the pile of luggage on the tarmac, your face aghast as you look down at your bag below from your seat wondering if your business shirt for your meeting in two hours is anywhere near remotely dry.
  Whilst London Fog luggage does have its many qualities, being completely waterproof is not one of them.
London Fog Westminster 4 Piece Set, Grey Heather
The 4 piece set consists of the 15" Under the Seat Bag, 20"...
High density woven material with faux leather trim. Convenient...
The three uprights interior has integrated shoe pockets and a...
How does London Fog compare to other luggage brands?
London Fog luggage compared to other luggage brands has its pros and cons. If you are purely after having a designer bag for ego and aesthetically pleasing purposes then this could be the luggage that you have been looking for. With being high-end luggage it does have a couple of good features such as its 8 wheels which allow you to effortlessly move your luggage around, and small compartments inside the bag which allows you to organise your luggage easily.
  London Fog bags are not the most practical out there though. For starters, it isn't completely waterproof. London Fog have multiple bags but they don't offer much in the way of bigger bags for those longer trips. It seems as though London Fog has targeted a specific market for their luggage and that is for the upscale traveller that goes on shorter trips and business visits. Make sure that London Fog luggage ticks all of your boxes, as there are alternatives out there that offer different features that may align more with the trips that you take.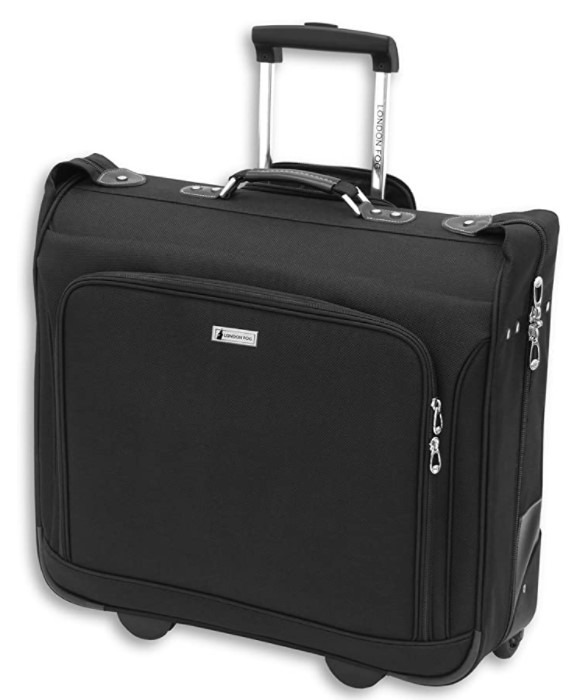 Where to buy London Fog Luggage
 Interestingly enough, London Fog doesn't sell their luggage on their website. Rather there are a collection of sites that have distributorship for their luggage. When looking to buy London Fog luggage then do your research. Not every range of their luggage is available on every website, but Macy's, Amazon and Belk have a good variety of London Fog luggage offerings.
London Fog Yorkshire 4 Piece Set, Navy
The 4 piece set consists of the 15" Under the Seat Bag, 20"...
Durable woven herringbone material. The uprights have 8-low...
Full color contrasting London Fog signature lining. Spinner...
Final Thoughts – London Fog Luggage Review
So there we have it, an in-depth look at London Fog luggage and the pros and cons that it brings. It cannot be denied that they are a seriously stylish collection of bags for travelling that will have you looking every bit the trendy jet-setter, however, some may consider the price tag a bit much for the features that this range offers. The 10-year limited lifetime warranty indicates that these bags are built to last and that could be worth the price tag alone, but are there better alternatives out there in a similar price range? Hopefully this London Fog luggage review has helped you decide what travel bag to opt for when leaving for your next trip! If you're looking for pilot bags you can check out the best ones here.
Do you have a London Fog bag? Do you prefer a different brand of luggage? What do you look for when deciding on travel luggage? Let me know in the comments!