Michael Jorgensen, or Jorgo, is a specialist formation and aerobatics instructor, and Australia's premier air to air formation action photographer.
I'm Mike, but my friends call me Jorgo. Thanks for visiting Pro Aviation Tips! I am one of the lead specialist pilot writers here at ProAviationTips.com, and this article is a bit about my aviation background, starting in a career in the military (and transferring throughout my career to work for three Air Forces in total) and then transitioning into civil aviation as a specialist formation and aerobatics flight instructor, as well adapting my skills as a fighter and tanker pilot to become australias premier air-to-air formation action photographer!
This website is reader-supported, which means we may be paid when you visit links to partner or featured sites, or by advertising on the site. For more information please read my Privacy Policy and Terms of Use
Michael Jorgensen, or Jorgo, is a specialist formation and aerobatics instructor, and Australia's premier air to air formation action photographer. Jorgo has a wealth of experience, stemming from his career as a military fast jet pilot, and heavy air-to-air refuelling tanker pilot flying for both the New Zealand and British Air Forces. Michael has had an incredible aviation career full of twists and turns, experiencing many setbacks and subsequent victories due to his tenacity and determination to always succeed against any odds. Jorgo loves teaching and now passes on his expert knowledge and experience through his instructing work in the cockpit and in the classroom, as well as through his consulting work and as a specialist aviation writer…
I have had a bit of a journey. From flying for three different Air Forces, becoming a commercial pilot, working with numerous fast jet air display teams and becoming a specialist warbird, aerobatic and formation instructor, I have seen it all. I have also experienced numerous set backs and diversions; from initially failing RAAF Pilots course, I later reenlisted in the RNZAF and became a fighter pilot, eventually transfering to the RAF and reroling into a heavy air tanker role
Michael Jorgensen's first steps into the cockpit
About a year out of High School I joined the Royal Australian Air Force (RAAF) as a trainee pilot. It was something I aimed towards for years – I'd even voluntarily repeated a year of High School to do an extra Mathematics class in order to make myself more competitive for RAAF selection. In retrospect I was personally too young for the demands of the course, which I realised when I failed a test flight about three months before Wings graduation. Then I was discharged, and out on the streets with 120 hours of Pilatus PC-9/A turboprop flight time to my name, and I then had to learn to fly a piston engined type for my Private Pilot Licence. I was immediately surprised with the differences in civilian flying training, and at the time I didn't understand why the systems where so.
Fast forward a few years and I gained my Commercial Licence, and then ended up joining the Royal New Zealand Air Force (RNZAF). I started from scratch and ended up on the Wing's course, this time on the piston engined CT-4B Airtrainer. Despite the aircraft differences, the flying training system was extremely similar to the RAAF, and I was a little older and wiser.
Becoming a Fighter Pilot
Posted to Strike Role, I competed my Wings Course and then Operational Conversion on the lovely Aermacchi MB-339CB jet trainer. It was outfitted with a bigger jet engine than the old RAAF MB-326's, and it even had modern electrical instruments – including a Head Up Display, Inertial Navigation System, and a powerful air conditioner. Learning to deliver weapons during the air to air, and air to ground roles was very demanding, and even more intensive than Wings training. My training buddy was scrubbed because of a few small errors that I was lucky not to have made myself, and he went away to fly another role. Within a short time I went from being a high achieving student pilot, to a very average junior pilot on a jet squadron. The excitement of flying these intensive sorties in an enjoyable Italian Sportscar jet, through the incredibly scenic New Zealand skies, made up for the blood, sweat and lack of sleep due preparation and study. The carrot on the stick was the promise of flying the F-16's that had been purchased, and were being prepared for NZ service.
Soon enough, a change of government occurred, and our new Leader cancelled the F-16 jets. So I was posted to fly the Douglas A-4 Skyhawk – which wouldn't get replaced. Within a few trips it was obvious that my 'borderline' anthropology measurements actually meant that I could not fit in the tiny Skyhawk cockpit. Concerns about probably breaking both femurs in an ejection, was less than the issue than it was physically difficult to move sufficiently in order to select buttons and switches. I was soon removed from the conversion course and was given a ground job. The promised conversions onto other types never eventuated, and I was soon told that HQ were investigating a more 'long term' ground job for my future. Mayday!
From Fighter Pilot to Multi-Engine
Following the September 11 terrorist attacks, and the increased military tempo worldwide, I was soon investigating alternative flying options. The Royal Air Force sent an Officer from the UK, down to NZ, and he interviewed most of the Strike Pilots. Pretty much anyone who wanted to go to the RAF went, and it took me a while to challenge the RNZAF to let me go – but I left. A Fighter role was not offered to me, but I was accepted as a Multi-Engine Pilot. After training on the Jestream and the Dominie, I was posted to the Vickers VC-10. This aged former passenger jet was painted grey and outfitted with Air Refuelling pods, and learning to fly as a team of four crew in the cockpit was a new challenge.
The multi-crew, multi-jet operations were very rewarding, and did give me some world travel opportunities – albeit rarely tropical paradise locations. Passenger, freight, and medical flights, were flown in addition to air to air refuelling flights (AAR). My previous experience as a strike pilot did help me a little during AAR, in particular during the formation rendezvous. Most of my operational AAR was over Iraq, supporting RAF Tornados, American Hornets, Prowlers and F-14's. A few months was also spent in the Falkland Islands, tanking F-3 Tornados and the C-130 Hercules.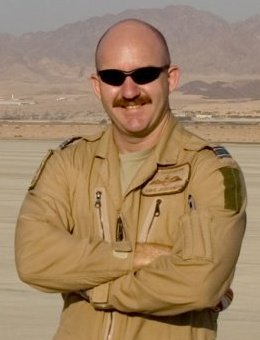 Weekend aviator and Aviation Photographer!
In my spare time I managed to conduct some aerial formation photography, and I started with local aerobatic and warbird types, but was eventually lucky enough to shoot some current military types. Eventually I also managed to fly with and photograph the RAF Red Arrows, USN Blue Angels F/A-18's, Suisse Patrouille F-5's, and the famous L-39 Breitling Jet Team. I also learnt that I could use my Australian civilian pilot licence to fly in the UK, so after a quick medical and BFR, I was able to get some experience in the Extra 300. Weekend formation and aerobatics enabled me to refresh my hands-on flying skills, yet I still yearned for more than 'just' 300hp.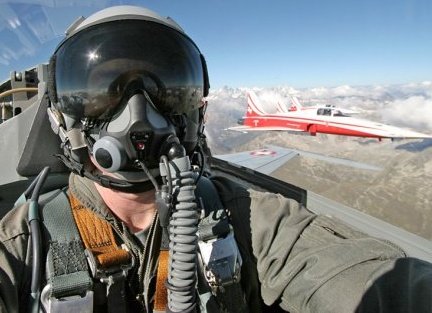 Transition to Commercial Aviation
I still always had the idea about going back to Fighters in the back of my mind, but after the shock of switching to multi crew operations, I realised that I actually really loved this style of flying and working as a team. My personal circumstances changed after deploying to Iraq, and it was no longer feasible for me to continue living this lifestyle
Returning to live in Australia in 2013, I faced many challenges in converting my experience onto my Australian CPL. Despite single pilot jet IFR flying, and multi-engine multi-crew worldwide jet operations overseas, none of it was recognised by CASA, so I had to hit the books to pass my Multi-engine and Instrument Rating, and conduct test flights in a piston twin, and of course sit all of the ATPL exams. ATPL flight planning was certainly a shock, especially since this topic was literally my job as an Air to Air Refueller pilot, sometimes managing the fuel state of dozens of aircraft in my stack – but of course, CASA knows best!
Becoming an Aerobatics instructor
I've become a General Aviation instructor, specialising in Formation Flying and Aerobatics. It is by far my personal favourite form of recreational flying, and sharing my knowledge with my formation students is very rewarding. Most of my students take to formation like a duck to water (except more flying than swimming), and they regularly continue to upgrade their formation skills. Many of them fly their home-built Vans series of aircraft, and they are particularly well suited to this style of flying because of their terrific visibility, light controls, and ample performance.
My military experience has also been beneficial to civilian pilots, when I've been able to mentor and instruct warbird pilots in the Red Radial flying events. These meetings enable pilots to fly basic military-style operations, with a backseat grownup ex-military pilot, generally in Nanchang and Yak-52 types. Interesting 'callsign' nicknames are often earned whilst the owners learn to enjoy experiencing what previously only fighter pilots would do for a crust. Even at only two miles per minute, it's great fun for everyone involved.
In the future I'd like to concentrate on formation, aerobatics, spinning, unusual attitude upset recovery, and emergency handling instruction, whilst continuing my passion of aerial photography.
If you want to get in touch with Jorgo, you can contact him using the 'Contact Us' webform or visit www.actionairimage.com