A pilot's shirt is a quintessential part of a pilot's uniform. A clean, pressed, white shirt provides a professional demeanor and is a simple yet elegant option, which sets the tone and frames the rest of the pilot uniform. Since you'll be in the cockpit for several hours at a time (if not more) having a good custom fit shirt is important as a pilot – you don't want anything too tight, but it should also look professional.
General aviation pilots' shirt
The classic white aviator's shirt can be dressed up or down depending on the category of flight operations. For example, general aviation pilots such as charter or flight instructors may combine a short sleeve custom pilot shirt with a pair of jeans and leather boots for a functional yet professional look.
Commercial airline pilots' shirt
A commercial airline pilot may wear their short or long sleeve custom pilot shirt with their company tie and accoutrements, paired with tailored slacks, leather shoes and a company blazer/coat as per the company's dress regulations for a sleek and professional demeanour in the terminal.
What makes a good pilot shirt
A custom pilot shirt needs to be as hardworking as the pilot wearing it, comfortable due to extended use in hot or cold and cramped environments, stain and water-resistant for those working around fuel oils and lubricants (or trying to eat inflight rations in turbulence!) and of course, fireproof. A custom pilot shirt should look great, and be easy to maintain such as being able to be machine washed and iron pressed or dry cleaned for pilots with busy schedules and quick turnarounds.
Where to find a good custom pilot shirt
Of course, it goes without saying that a custom pilot shirt should be individually tailored to the wearer. This makes the custom pilot shirt more functional and look better (no one wants to look like re-wearing their dads baggy shirt or look like they are about to burst out of their seams). Pilots have two options – the custom pilots shirt can be optimized off the shelf and tailored post-purchase, or better yet, detailed measurements taken and then the custom pilot shirt is made to fit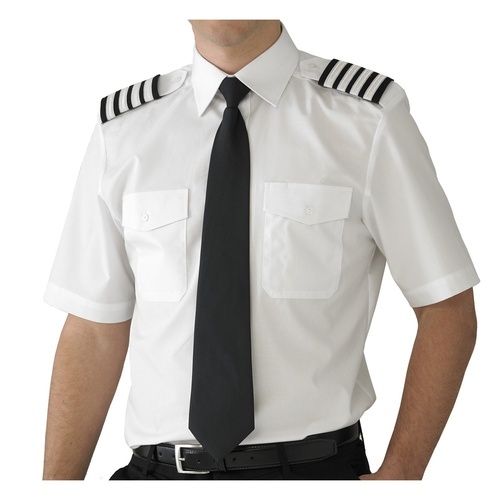 What custom pilot shirts are available?
1. Van Heusen custom pilot shirts
Van Heusen offers a custom pilot shirts in short and long sleeve starting from USD $20 upward, in a wide range of optimized fits which suit the majority of pilots. These shirts can also be tailored post-purchase for even more comfort. If you want to see what else is available, check out our review of all Van Heusen Pilot Shirts.
Men's short sleeve aviator shirt
I like this shirt, especially for the price. Whilst they aren't the best uniform shirts in my cupboard they are a great essential and tick all of my boxes. Make sure you check your buttons; one of my new shirts was missing one, but they do come with replacements. I contacted the seller and had mine replaced, and the second one was fine.
Male pilots' long sleeve shirt
I like this shirt for its professional appearance and easy care. Some buyers have had issues with sizing though, so make sure you know your size and select the correct sizing. If you're a savvy student pilot, a great idea is to try it on at your local pilot store (or other van Heusen shirts at a department store) to get an accurate fit and then order online. If you can afford it though, I recommend you support your local small business owner-pilot shop rather than just using them for sizing.
Men's non-iron short sleeve
This is my pick, and after my initial purchase, I went back for more. The short sleeve is great for reaching forward and around the cockpit without restriction, and is perfect for warmer climates where the cockpit is scorching before the ECS or aircon kicks in. The 'non-iron' feature means it is crinkle resistant and comes out of the wash looking great, whilst still having a comfortable fabric.
Women aviator pilot's short sleeve
Whilst I haven't worn this personally, a number of my colleagues and students have. From all accounts its a great shirt, and I can vouch that it looks good when worn. Check your sizing carefully as its a little generous (if your sitting on the fence, go one size smaller).
No products found.
2. Giorgenti of New york
Giorgenti of New York offers a range of custom pilot shirts (fully tailored made to fit) ranging from economy USD $59-$89 through to luxury cotton custom pilot shirts from USD $159 to $280+ These shirts can really give your budget a hammering, but the luxury shirts will last you years and years if looked after and laundered correctly, meaning whilst they are expensive, the fact that they last much longer can make them cheaper per use than some of the lower cost shirts.
3. Elite Men's Short Sleeve Pilot Shirt
I like the Aero Pheonix shirt for a couple of reasons. Its cotton/poly blend makes it easy to iron and pretty wrinkle-proof whilst still being really comfy and breathable in flight. They have all the features you'd expect like the pockets, epaulets and pen slots, they look good, are a great value and the sizing is spot on.
If I had one complaint, it would be like the other shirts the quality control can be lacking with the buttons sometimes being loose or not properly sown on. The Aero Pheonix comes with spares sown inside, and it only takes a moment to run a bit of thread over them to ensure they are securely fastened. This could also be done by a tailor if your getting them personally fitted. The epaulets are also a little small for some company rank slides, which might make it a bit fiddly to fit your bars, but they still work fine so its not really an issue.
Being a cotton/poly blend it is not as fireproof as a straight 100% cotton shirt, so from a safety standpoint it isn't my best pick.
Premier pilot shirts
Men's long sleeve pilot shirt
The premier men's long sleeve pilot shirt is my pick for the budget-conscious pilot. They retail men's and women's shirts, which fit in well for pilots, but could also be used for other authoritative work uniforms like security forces. It is a cotton polyester blend that is machine washable and easy to iron, I would prefer my pilots to wear cotton shirts purely because they are more fireproof than cotton/poly blends.
Women's long sleeve pilot shirt
The women's long sleeve shirt is an almost identical product to the short sleeve reviewed above; so your choice depends on uniform requirements or personal preference. Personally I prefer a long sleeve shirt due to the sun protection it provides, but due to uniform restrictions I often have to wear a short sleeve.
Conclusion
There is no doubt that a pilot's shirt is an integral part of his or her dress, and that the quality of the shirt determines how long he or she will wear it before it gets torn. It's also important to get a durable shirt that will last you for long enough until you upgrade.
If you haven't bought a decent shirt for flying in, then I'd recommend getting one sooner rather than later. Normal button-up shirts often don't have the breathability that you're going to want after several hours in the cockpit. Still flying in your t-shirt and jeans? It might be ok as a student pilot, but sooner or later, you're going to want other pilots to see you like a pro to give you the best chance of getting a pilot job, and dressing the part in a good quality flying shirt is a great place to start.
Now that you know what pilot shirts to wear, check out some of our other tips on essential flying gear you'll need: