Qantas is the third oldest airline1 in the world still operating. In this article, I look at whether time proves that the Flying Kangaroo is stronger for its legacy or whether it got stuck in the past. I will look at its history, working conditions, routes, salary, and ownership as part of this Qantas review.
Introduction – Qantas review
Qantas is the national carrier of Australia and in quintessential Australian fashion, it is an easy-off-the-tongue acronym for a rather long-winded name: Queensland And Northern Territory Aerial Service Ltd (QANTAS).
Queensland and the Northern Territories are regions within Australia and QANTAS does indeed have its origins within these regions. Originally founded in 1920 in Winton, Queensland, QANTAS started flying mail between Charleville and Cloncurry. That regular route started taking passengers in 1922. Its first flight with a passenger was with an 84-year-old gentleman named Alexander Kennedy. For more detail on the history of QANTAS, reference the official Qantas website – QANTAS2.
Is Qantas a good airline to work for?
The short answer is yes.
QANTAS is considered a good airline to fly for by most pilots, as well as cabin crew, and other Qantas staff, according to Qantas reviews.
The career opportunities are said to be impressive. Qantas is split into two main services – the regional flying service called QANTAS LINK and the International service called Qantas. This range of flying services allows relatively low-time pilots to join Qantas and start flying the Bombardier Q400, Q300, and Q200 turboprop airplanes. The other end of the range is the massive international carriers, the Airbus A380 and now retired Boeing 747s.
The opportunity for a pilot to be able to enter into a company, i.e. Qantas, and start by flying short regional routes (often less than an hour of flying), and be able to progress to the 10hr plus international flights in the Airbus A380 or the Boeing 787s is a great motivator.
As a junior pilot you will get inducted into Qantas Stand operating procedures and methodology from the start, and progressing through to the bigger, more complex aircraft will not require a pilot to relearn a company's methodology.
The fact that Qantas is based in Australia is also a big advantage – Australia is a first-world country with great weather, beaches, and culture. Often times pilots have to live in less than ideal places in order to have the same career opportunities.
Is Qantas a budget airline?
No, although they do provide good value for money, whether flying economy class, premium economy or business class.
The term budget airline is not officially defined in the aviation community, and as such, the call as to who is and who is not "budget" can be highly subjective.
On the more objective front, budget airlines do tend to have certain characteristics that disqualify Qantas as a budget carrier. Pricing is the obvious one. Qantas is very rarely, if ever, the cheapest carrier on a route. Qantas also allows baggage, provides a meal service, offers extra legroom, flight entertainment, and tends to be more comfortable for paying customers than a purely budget airline such as Jetstar or other airlines that market themselves as budget carriers.
Where does Qantas rank?
Qantas is considered to be in the top ten international carriers in the world, finishing 8th on the 2021 Skytrans Airline awards3. The 2022 Skytrans awards are expected in September 2022, but AirlineRatings.com scored Qantas 6th in 2022.  Regionally Qantas Link won the Airline Ratings award in 2021.
Who is Qantas owned by?
Qantas is owned by a collection of shareholders – the biggest of which are First Sentier Investors and the Pendal Group Ltd, both with around 5%.
According to the Qantas constitution, foreign (non-Australian) ownership of Qantas is limited to 49%. Shares change often and can be looked up on many online stock trade websites – including this one: QANTAS Shares4
Qantas is also a part and founding member of the one world initiative of Airlines.
Where does Qantas fly?
Qantas has a domestic and international section.
Within Australia, you can get Qantas flights between all major cities, such as Sydney airport, Melbourne, Brisbane, Sunshine Coast, Darwin, Perth, and most regional towns. Qantas flies to 65 domestic (within Australia) destinations – see the map here: Destinations5
Qantas will be able to get you to, or very close to most places within Australia, even if some destinations require a connecting flight.
Qantas is also the owner of Jetstar – a domestic carrier in Australia.
You can get a Qantas international flight to 4 destinations in New Zealand, 5 destinations in the South Pacific and 7 destinations in Asia (mostly south East). You can also get a long haul flight to America, Europe or Africa with 4 destinations in North America, 2 in Europe, 1 in South America, and 1 in Africa.
Qantas is however closely aligned with Emirates and destinations are available to book through Qantas as a part of the alliance, even if they are not Qantas routes.
Is Qantas the best airline in Australia?
The matrix that a person uses to measure performance will be very important when answering this question. With that being said, Qantas has an excellent reputation, according to Qantas customers, and if taken across the last 20 years, then clearly the best airline in Australia. Recent challenges and decisions, as well as cancellations, and rising prices, have resulted in the Qantas CEO Alan Joyce's house being vandalized – CEO House Vandalised6.
According to ProductReview.com.au7, there are also many opinions expressed and reviews with reports of terrible service, reports of the Qantas baggage staff losing bags, cancelled flights followed by no replacement flight or airport transport, and many Qantas customers seeking responses or explanations for delayed flights or lack of communication after making a formal complaint. Some customers were offered a flight credit after cancelled flights, and then also needed to chase this up with Qantas.
Despite these recent negative reviews that consumer surveys highlighted, it's worth noting Qantas remains a strong airline with a growing customer base. They have online check in, inflight entertainment system, credit card offers, reward programs with Qantas frequent flyer and many other customer incentives.
Is Qantas the only airline that has never crashed?
No. This misleading claim has its origins in the movie "Rain man" and is misleading for two reasons.
The first reason is that Qantas has had a few crashes during its history, some with fatalities – including having an aircraft shot down in the second world war.
Qantas is, however, a very safe airline, and since the jet age, Qantas has never had "hull-loss", i.e a write-off of an aircraft due to a crash, nor any fatalities.
The second reason why the claim is not strictly true is that there are a few airlines that still have a claim to having no "hull-loss" – most notably being Hawaiian Airlines, operating since 1921.
What makes Qantas Australia's flagship airline?
Qantas is an extremely long surviving Airline, having been founded in 1921. In 1947 the Australian government under prime minister Ben Chifley bought and nationalized the Airline. This originally made Qantas the flagship carrier for Australia.
Qantas's performance has however ensured that it prospered and remains highly cherished in Australian public opinion. The "flying kangaroo" will not easily be changed. The nationalization, coupled with the legacy and excellent performance has resulted in Qantas remaining the flagship carrier for Australia.
The salary amounts do vary greatly with what position the pilot has. According to Payscale, the average salaries (rounded to the nearest 500 and amount per annum) for certain positions are noted below: Pay scale QANTAS8
First Officer – AUD$71 ,500.00
Captain – AUD$172, 000.00
The salary is further varied by experience, flight route, and tasks responsible for, for example, there are bonuses for training captains.
According to most online resources, the average pay is AUD$150,00.00 per annum for a pilot at Qantas.
Flight attendants with Qantas can expect an average salary of around AUD$52,000.
Advantages of flying for Qantas
· Can start flying career with Qantas Cadetship
·     Good career progression possibilities, for pilots or for other crew members, such as a flight attendant
· Respected airline
· Good pay
· Good benefits
· Great home base country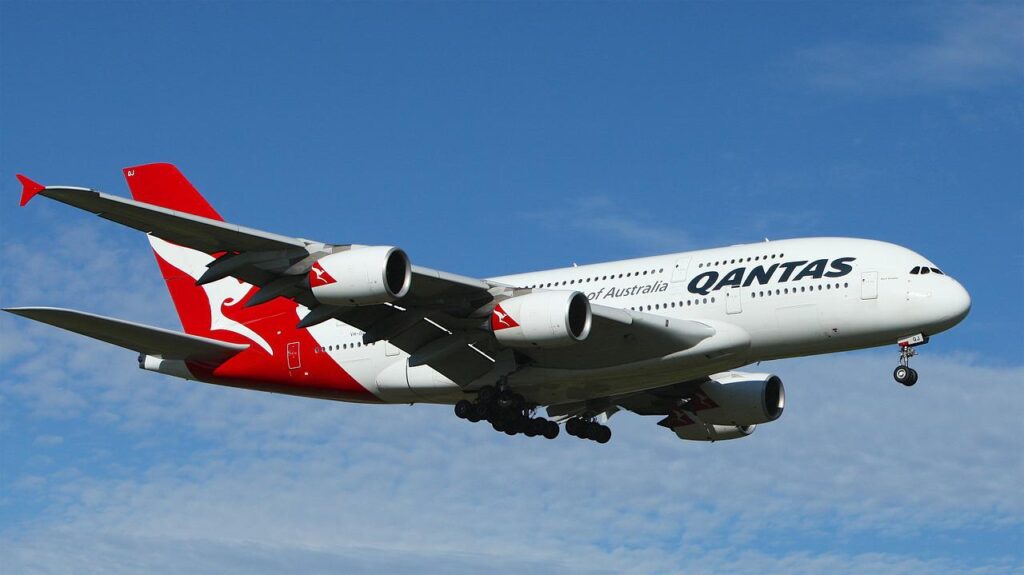 Disadvantages of flying for Qantas
· Qantas is not as big as Emirates, Qatar, thus cannot compete with the top salaries offered elsewhere
·!– /wp:paragraph –>
· Australia is on the far end of the world and does not fly to as many destinations
Conclusion – Qantas review
Qantas has a rich history, a long-standing and excellent track record, and provides good working conditions in a highly competitive market. Qantas has managed to keep ownership diversified, which ensures it can survive if a major world event (for example a pandemic like COVID 19) puts intense pressure on financial institutions. As the flagship carrier of Australia, Qantas has a good pool of candidates to draw from in the healthy Australian aviation setting, which ensures that it can replace retiring pilots.
When looking at the points discussed, one can deduce that Qantas is a good company that should continue to prosper as travel continues to take off post-COVID-19. Is it one of the best airlines to work for? If you have any thoughts on the topic, let us know in the comments!
Reference List:
'10 oldest airlines in the world', Miquel Ros, CNN Travel. Published (updated): Oct 15, 2019. Accessed online at https://edition.cnn.com/travel/article/worlds-oldest-airlines/index.html on Mar 1, 2023.
'Our history', Qantas. Accessed online at https://www.qantas.com/au/en/about-us/our-company/our-history.html#:~:text=First%20passenger%20was%2084%2Dyear%2Dold%20Alexander%20Kennedy.&text=S.M.%20Bruce%20became%20the%20first,after%20a%20storm%20cut%20roads on Mar 1, 2023.
'World's Top 10 Airlines of 2022', World Airline Awards. Accessed online at https://www.worldairlineawards.com/worlds-top-10-airlines-2022/ on Mar 1, 2023.
Australian Domestic Flight Network, Qantas. Accessed online at https://www.qantas.com/au/en/qantas-experience/australian-domestic-flight-network.html on Mar 1, 2023.
'Moment vandals target Qantas boss Alan Joyce's $19 million harbourside mansion with toilet paper and eggs', Miriah Davis, Sky News. Published: July 14, 2022. Accessed online at https://www.skynews.com.au/australia-news/watch-moment-vandals-targets-qantas-boss-alan-joyces-19-million-harbourside-mansion-with-toilet-paper-and-eggs/news-story/901d4e14744fb65f065f859483048a96 on Mar 1, 2023.
Qantas, Product Review.com. Accessed online at https://www.productreview.com.au/listings/qantas on Mar 1, 2023.
'Average Salary for Qantas Employees in Australia', Payscale.com. Accessed online at https://www.payscale.com/research/AU/Employer=Qantas/Salary on Mar 1, 2023.