Toy aircraft can help! RC planes for beginners can teach kids vital aviation skills, encourage an interest in aircraft and maybe even spark a passion for a career in aviation! So what skills can be learned, what different types are out there, and what would need to be considered if you're purchasing one? Read on..
Introduction to RC airplanes for beginners
Remember when you first started learning to fly? All of those complicated terms such as aerofoil, Angle of attack, trim, accelerated stalls, adverse aileron yaw, washout, secondary effects, thrust, mixture, stability, incidence, copilot buys first drinks, centre of gravity, and Going Around? Then you were tested on these terms on paper, and yet those same words were repeated during intense flying conditions. Apparently, they were important things to understand. There are probably a few more, but really who can remember them all?
One way to help cement these terms into the new pilot's memory is via exposure from a young age. A great way to introduce younger wannabe flyers into aviation is via the realm of Radio Control Aircraft.
"Anyone who's not interested in model airplanes must have a screw loose somewhere"

Paul Maccready
RC airplanes
Think about it. These flying models follow the exact same aerodynamic principles as full-size aircraft, teach coordination, and encourage the modelers to increase their knowledge of aviation theory.
 Please don't run out to your nearest Hobby Zone1 or Horizon Hobby2 and buy the most expensive aircraft or the best-looking model aircraft and run to the nearest park. Chances are that this model aircraft is harder to set up and fly than you might imagine – even with the guidance of a full-sized adult pilot, and even on beginner mode! There are some pretty complex models out there, so it would make for a short flight indeed and perhaps even disappointment.
The best likelihood for success is to find a local aeromodelling flying club, talk with the local members, and seek their advice. They may even have a trainer aircraft set up especially for visitors to try their hand. If you do decide you want to purchase your first radio control plane, read on to look at what you might consider.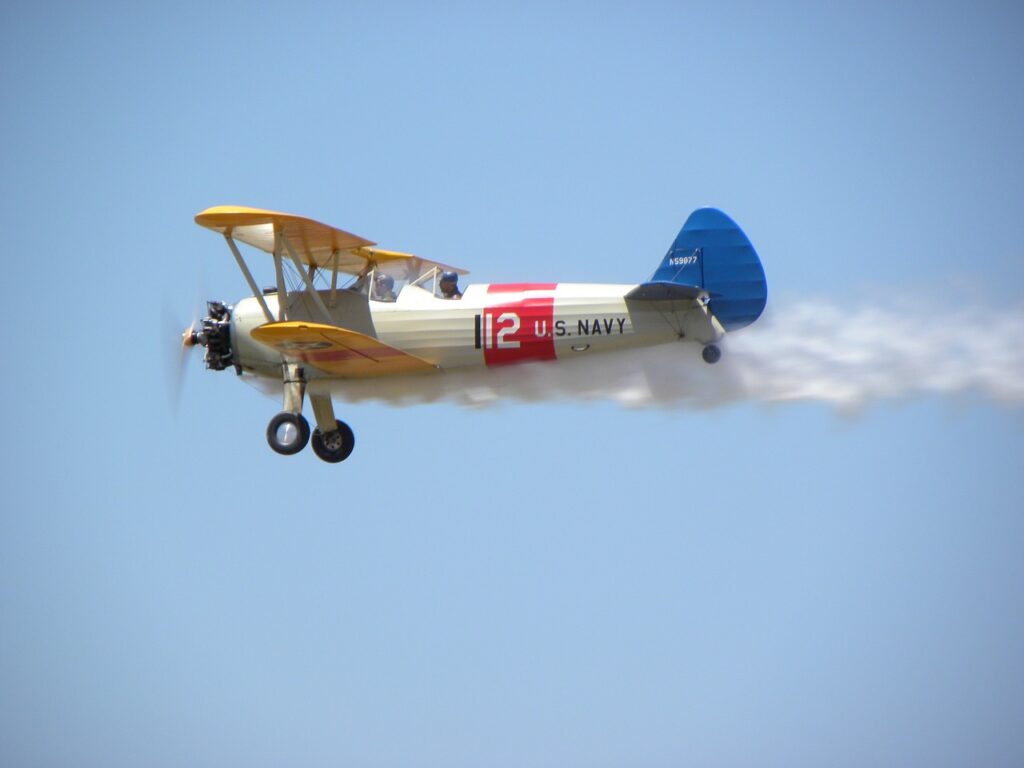 Why play with an RC airplane?
Fast forward a dozen trips later and your young kid may have picked up the flying skills to embarrass half of the club members, and have a healthy knowledge of many of the terms that befuddled your PPL written tests.
Sale
Bestseller No. 1
They may also permanently have the seed implanted that will make them aspire to be a full-sized pilot – and a new source of inspiration to study harder in school. It's worth a shot.
It's also fun. A great way to get outdoors and enjoy the sunshine. Junior will likely laugh at your befuddled attempts to fly the beginner RC plane too.
You can find more information on getting started to fly RC airplanes on the AMA flight school website here3.
What are the best RC planes for beginners?
There are many different types of RC airplanes for beginners, and choosing one can be difficult. They all have different strengths, weaknesses, speeds, power type, wing types etc.
The key to choosing the right first RC airplane for you, if you do decide to purchase one, is being honest with yourself about how much money you are willing to spend, your skill level and your size. The smallest planes are tiny little things that hold just enough battery for a few minutes of flight time. They're fun to fly in smaller spaces like inside, but you will quickly outgrow them!
Sale
Bestseller No. 1
Next up are micros and ultra micro models which are slightly bigger than 'nano' models but go much slower – perfect for beginners who want something they can learn to fly inside safely.
As people progress through their flying career, they begin moving up in scale sizes (larger planes) until they reach giant scale models, usually for experienced pilots, which can be as big as a small car!
Often, new pilots will start out at the micro or nano scale trainer airplanes and grow from there.
When you're starting out, planes that are around 500mm-600mm (20 inches) is a great size to learn with. The smaller the plane, the less stable it is in windy conditions – they can be more sensitive to how much they're buffeted by the wind which makes them harder to control for beginners.
The advantage of larger planes though is that they fly slower so you will have more control and it's most likely easier to react correctly when things go wrong. Also, if something breaks on your plane you don't need to panic as much because you won't crash instantly like with smaller models.
For more info on the best beginner RC airplanes, you can refer to RC Airplane world here4.
Buying my first RC airplane – What Do I need to consider?
Make sure you find out if the RC plane comes with spare parts, whether it's fully assembled or not, if there's any gear that needs to be purchased separately, if it's ok to fly in light wind, what the construction type of the RC plane is and if it has advanced settings or not.
You could also look at features such as inclusion of panic recovery mode, quality of flight battery, the need for AA batteries (or other battery type) for your remote control, whether you want an electric powered model, whether it has SAFE tech (Sensor Assisted Flight Envelope) or not and of course, the price and your budget.
RC piper cub designs are among the most popular of any RC plane model. Are they the best RC plane? Quality is excellent, so you know you are getting a craft that will provide years of enjoyment. This easy-to-control aircraft with this updated radio transmitter makes flying fun for even the youngest beginner pilot.
The Piper Cub is small enough so that you can fly it in your backyard and its four-channel control makes for easy maneuverability.
There are several RC plane designs that are very popular with first-time pilots because of their simplicity, ease to fly, and practicability for backyard use. These include the 4 channel Piper J-3 Cub, 3 channel Aerobatic Trainer Planes, 2 channel Extra 300S Sport Aircraft, 3 channel Supermarine Spitfire Warbird and the 4 channel Cessna 182 Skylane Airplane. All of these can be operated from most home backyards or a large park nearby if a flying field is not available. They can be the best choice for many enthusiasts.
Sale
Bestseller No. 1
Sale
Bestseller No. 2
What else can RC airplanes teach?
As well as learning about aviation, RC airplanes can help you learn some practical life skills.
First of all, they teach patience. Because so much depends on the weather conditions and how you fly them, managing to get one of these planes off the ground is extremely rewarding after trying over and over again!
RC airplanes also teach responsibility. If you crash them or get them dirty, it's up to you to clean them up and put them back into pristine condition (and then some people like to restore old models too).
As well as teaching these skills that are useful in everyday life, flying RC planes helps develop hand-eye coordination and a general awareness of your surroundings too.
Once basic practice flying is mastered there is a huge variety of other areas to explore. Gliding, pylon racing, aerobatics, straight and level flight, scale, jets, dealing with windy conditions are but some of the disciplines.
Yes, I built and flew Radio Control models when I was at school, and I have no doubt that it helped with my airforce entry aptitude exams. Of course, I still fly them today – it's fun.
Now if anybody's kid can explain to me the usefulness of understanding the aircraft's Zero Lift Angle of Attack, then please give me a call.
RC planes for beginners – Final Thoughts
No matter your skill levels or experience with remote control airplanes, these radio-controlled aircraft can spark that interest and inspire your kids to learn more! You don't necessarily need your own gear; start doing your research into local flying clubs.
So who knows? Maybe playing with safe technology such as RC planes and developing a bit more understanding of aviation concepts will inspire your child to become an excellent pilot someday, with a great flying career! (You can read more about Aviation for Kids here).
Or maybe it will just be a fun new hobby, encouraging them to get outside.
Let us know in the comments below if you've had a go at trainer RC planes! What did you learn?
Reference List:
Hobby Zone – https://www.hobbyzone.com/
Horizon Hobby – https://www.horizonhobby.com/
How Do I Get Started in Flying Remote Control (RC) Model Airplanes?, AMA Flight School. Accessed online at https://www.amaflightschool.org/getstarted/how-do-i-get-started-flying-remote-control-rc-model-airplanes on May 12, 2023.
Beginner RC Airplanes – Trainer Planes Explained, RC Airplane World. Accessed online at https://www.rc-airplane-world.com/beginner-rc-airplanes.html on May 12, 2023.
Piper J-3 Cub, National Air and Space museum. Accessed online at https://airandspace.si.edu/collection-objects/piper-j-3-cub/nasm_A19771128000 on May 12, 2023.