Serengeti eyewear was founded in 1984 in the US. The company specializes in designing sunglasses with technologies such as polarized lenses, photochromic lenses, and spectral control lenses. The reader will get a thorough overview of the company, its product line, and reviews regarding Serengeti sunglasses.
Sunglasses are not only a good investment but also a fashion statement and an essential part of pilot gear. Much like how a watch can indicate one's sense of style and precision, a good pair of sunglasses represents class and protection. In this article, we will be looking at a brand that has been in the sunglasses market for nearly 40 years.
Serengeti Eyewear is owned by Bolle Brands. They research and develop technologies such as spectral control, polarized and photochromic lenses and incorporate these technologies into their products.
The Good
Lightweight and comfortable feel
100% UVB and 98.5% UVA protection
Industry leading photochromic technology that automatically reacts to UV levels
Blue light filtration to reduce eye strain
The Bad
Very expensive as compared to regular sunglasses, even some of the top brands
Limited availability as they are exclusive and can be hard to find.
Verdict: If you are after high quality sunglasses, it's hard to beat a pair from Serengeti. Although extremely pricey, money spent on Serengeti sunglasses is well worth the investment.
Where are Serengeti sunglasses made?
Although Serengeti is an iconic brand based in the United States, all the lenses and frames manufacturing is done in Italy as it is the world's fashion and design hub. Arnauld Falce, Creative Director at Serengeti was reported to be very excited about the move to Italy as most of their products' inspiration comes from Italy.
How many styles of sunglasses does Serengeti make?
Serengeti offers the following collections available for its' customers to choose from:
1. Serengeti Sport Collection
2. Serengeti Driving Heritage Collection.
3. Serengeti Essentials Collection.
4. Serengeti Creator Collection.
Is Serengeti a good brand of sunglasses?
Serengeti is an excellent brand of sunglasses for daily use. However, it is a bit expensive as compared to top brands such as Oakley and Ray-Ban. Also, since it is an exclusive brand it is harder to find than other brands.
Do Serengeti sunglasses have UV protection?
Human eyes are highly sensitive to the sun's UV rays. This problem is exacerbated at higher altitudes because UV rays have to travel less distance to reach pilots' eyes.
With time, scientists have discovered how harmful these rays can be and how these rays can cause long-term damage such as cataracts, and the demand for sunglasses offering UV protection has risen significantly.
In the same way that a good jacket protects you from the elements, Serengeti sunglasses absorb 100% of the sun's UVB rays and over 98.5% of UVA rays, exceeding government and commercial standards, thus offering the best eye protection to its user.
All Serengeti glasses are photochromic sunglasses; they darken in bright sunlight and lighten in overcast or low light situations. These lenses greatly improve contrast and enhance definition. They also filter out blue light which is a major cause of eye strain/fatigue.
Unique features of Serengeti sunglasses
Every sunglasses manufacturer has some unique properties that make their product stand out in the market. Some unique features of Serengeti sunglasses are as follows:
1. Photochromic Technology:
This technology is molecularly infused into the Serengeti lens. These lenses react to UV light by becoming dark as the amount of light increases and becoming light as the amount of light decreases.
2. Spectral Control Technology:
Spectral control technology acts as a filter eliminating blue light and increasing red, yellow, and green for better depth definition and bright colors.
3. Polarization Technology:
Polarized lenses feature an anti-glare coating that eliminates any glare from light reflecting off nearby surfaces. These unique lenses also protect the eyes from UV rays.
Any disadvantages of Serengeti sunglasses?
Following are some of the disadvantages associated with Serengeti sunglasses:
1. Very expensive as compared to regular sunglasses, even some of the top brands
2. Limited availability as they are exclusive and can be hard to find.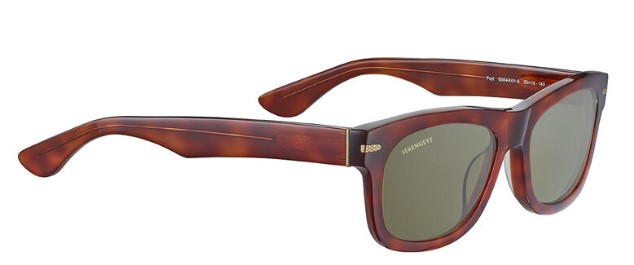 Where can you purchase Serengeti sunglasses?
Potential customers can purchase their Serengeti sunglasses from a variety of online sources ranging from the official Serengeti website to Amazon and other third-party sites. Following are some links to websites that offer Serengeti sunglasses for sale:
1. Serengeti Official website which has the full selection of the best Serengeti sunglasses.
Please note that the official site will give you the location of the nearest store.
2. Amazon:
Serengeti Tellaro Sunglasses
Large Fit, 60x45mm, Temple 143 Bridge 17
Photochromic Mineral Glass Lenses (light-adjusting)
Perfect for Driving or Flying, Classic Look
3. Flight Sunglasses has a good range
FAQs about Serengeti sunglasses
What is a "drivers" lens?
Launched in 1985, these are the ideal driving sunglasses. The drivers lens magnifies contrast and definition. These drivers lenses provide sensations of warmth and are ideal for driving because they enhance colors and contrast.
Is photochromic better than polarized?
Photochromic lenses are designed to automatically adjust and continuously re-adjust to the surrounding level of light. They are ideal for situations where there are constant changes in the level of light.
Polarized lenses are designed to block out the glares and reflections along with harmful UV rays. With the reduction of glare, there is the bonus of increased safety.
For flying, neither polarized nor photochromic lenses are recommended. Polarised lenses can reduce a pilot's ability to read instruments that already might have an anti-glare filter. Photochromic lenses might not be effective on a flight deck as the cockpit windshield is designed to prevent the transmission of UV rays and photochromic lenses react to UV rays by darkening.
How do you clean Serengeti sunglasses?
Customers can get their money's worth by taking proper care of their sunglasses as it will be a long-term investment for them. Some important points to note while cleaning your Serengeti sunglasses are as follows:
· Customers are advised to clean lenses by blowing dust particles off them and then rinsing them with lukewarm water and non-abrasive soap.
· Customers can also clean their Serengeti sunglasses lenses with a clean good quality optical cloth.
· Avoid using aggressive cleaning products such as detergents and solvents.
· Always store their Serengeti brand sunglasses in the hard cover case that comes along with the sunglasses. Never keep sunglasses in a pocket or purse where lenses may be susceptible to damage.
· Avoid placing sunglasses in open environments of extreme heat or extreme cold. E.g. dashboard of a car in summer.
What are Serengeti sunglass lenses made of?
Serengeti uses two high-quality materials to manufacture lenses for its sunglasses range. They are as follows:
1. Serengeti's ultra-light mineral glass lens provides the best visual acuity among its competitors.
2. PHD 2.0 lenses are made from Trivex which is extremely resistant to impact and temperature along with being very light and thinner than traditional polycarbonate lenses. PHD 2.0 lenses provide a high level of UV protection along with stunning visual acuity.
Are Serengeti sunglasses worth it?
Although extremely pricey, money spent on Serengeti sunglasses is well worth the investment. The high cost is there because of the advanced technologies used in these glasses, the protection offered by these glasses, and their long-lasting durability along with the use of extremely advanced lightweight materials.
Also, Serengeti does not mass produce its glasses which makes it an exclusive and limited item.
Conclusion
Serengeti Sunglasses reviews speak for themselves and the brand has a rich history going back almost 40 years. Clients can be assured that although they are paying a substantial price for their sunglasses, they are getting a premium, well-crafted, and technologically advanced product in return. Now you have your glasses, it's time to complete the pilot look with a good watch, crisp shirt, and jacket.