The Pipistrel Alpha trainer aircraft is a battery powered electric aircraft that has been a game changer for flight training! Let's take a look at the features, design and performance..
The Pipistrel Alpha Trainer
The Pipistrel Alpha Electro is an exciting new aircraft, and a game-changer for flying schools and the training market. Designed and developed by Slovenian aircraft manufacturer Pipistrel, it is at the forefront of the shift toward cleaner, more sustainable flight.
"With the ever-growing cost of fuel, it is time to rethink pilot training. Our solution is the first practical all-electric trainer! Technologies developed specially for this aircraft cut the cost of ab-initio pilot training by as much as 70%, making flying more affordable than ever before. Being able to conduct training on smaller airfields closer to towns with zero C02 emissions and minimum noise is also a game changer! Alpha Electro meets microlight and ASTM LSA criteria, as well as standards for electric propulsion. Alpha Electro is our 5th electric aircraft project and the second to result as a commercial product."

Ivo Boscarol, CEO of Pipistrel
This website is reader-supported, which means we may be paid when you visit links to partner or featured sites, or by advertising on the site. For more information please read my Privacy Policy and Terms of Use

Design and Performance
The Alpha Electro is a two-seat, high-wing monoplane of composite construction. The aircraft has tricycle landing gear and features a relatively large, 12.5-meter wingspan, which provides excellent gliding performance. It uses an 60kW electric motor, powered by an onboard battery pack that provides climb performance in excess of 1000+ fpm (a better climb rate than the gasoline-fueled version!).
The Alpha Electro has a maximum speed of 157 km/h (98 mph), with a cruise speed of 135 km/h (84 mph), and an endurance of one hour (plus a 30 minute reserve). One of the unique characteristics of the Alpha Electro is its ability to use regenerative charging to recharge the battery by up to 13% in the descent on approach to land, a feature that can prolong endurance during flight training and provides additional margins of safety in the event of a missed approach or go around.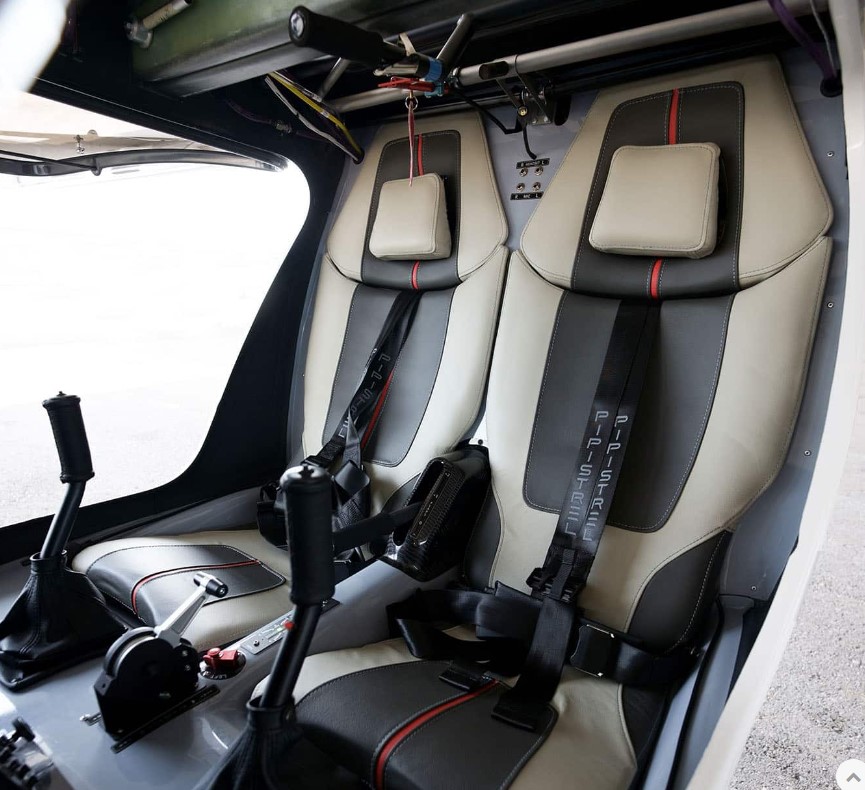 What makes the Pipistrel Alpha Electro so special?
The Pipistrel Alpha trainer combines quality with sustainability and is a true pioneer in the aviation industry, signaling the future of cleaner, quieter, and more sustainable flight training. Here's what makes the Alpha Electro a remarkable training aircraft:
All-Electric Powerplant
The Alpha Electro is powered entirely by an electric motor and onboard batteries, making it one of the few aircraft in the world that can claim zero emissions during flight. It's a significant step toward reducing the environmental impact of general aviation.
Lower Operating Costs
Compared to traditional gasoline-powered aircraft, the Alpha Electro has significantly lower operating costs. This is primarily because electricity is less expensive than aviation gasoline, and electric motors require less maintenance than internal combustion engines.
Quiet Operation
The electric motor is much quieter than a conventional gasoline engine. This reduced noise level can make the flight more enjoyable, decrease noise pollution in the vicinity of airports, and even extend the hours during which training flights can be conducted at some noise-sensitive airports.
Regenerative charging
A unique feature of the Alpha Electro is its ability to recharge the batteries during the descent phase of flight, which can extend the endurance and efficiency of the aircraft. This works similarly to regenerative braking in an electric vehicle such as a Tesla, and can give it up to a 13% battery recuperation on approach – perfect for increasing endurance in case of a missed approach.
Technical Data
Here are some of the key specifications for the Pipistrel Alpha Electro:
Motor: 60 kW electric motor
Propeller: fixed-pitch, 2-blade
Maximum speed: 157 km/h (98 mph)
Cruise speed: 135 km/h (84 mph)
Flight endurance: Approximately 1 hour, with a 30-minute reserve
Seats: 2
Dual flight controls
Empty weight: 345 kg (760 lbs)
Maximum takeoff weight: 550 kg (1212 lbs)
Wing Span: 10.71 m (35 ft)
Total Length: 6.50 m (21.3 ft)
Height: 2.05 m (6.73 ft)
Note that, as with any aircraft, the actual performance will depend on a variety of factors, including weather conditions, weight, and how the aircraft is flown. It's always important to refer to the Pilot's Operating Handbook for the specific aircraft you're flying for accurate performance data.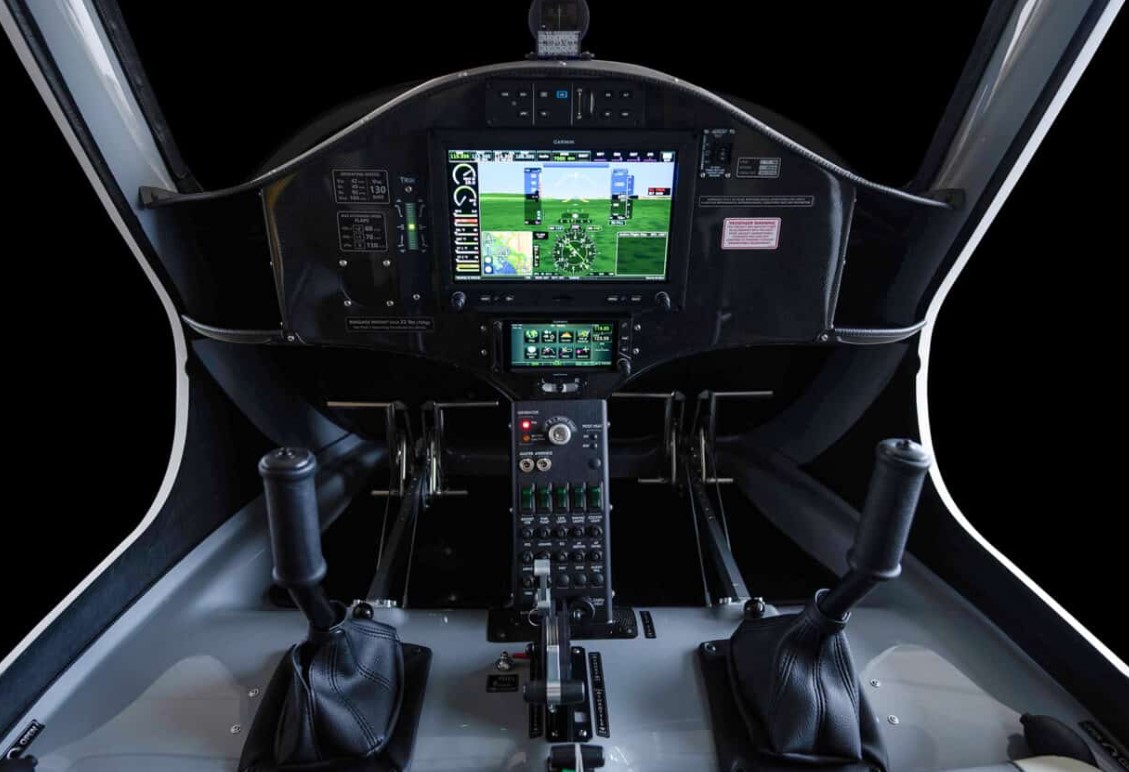 Pipistrel Alpha trainer Aircraft Flight Endurance
While electric aircraft are often critiqued for limited flight times due to battery constraints, the Alpha Electro boasts a flight endurance of around an hour, with a 30-minute reserve. For most flight training sessions, which include pattern work, take-offs, and landings, this endurance is more than sufficient.
Pipistrel Alpha trainer Cockpit and Controls
The cockpit features a typical aviation design that is ergonomic, intuitive, and 21st-century ready with a classic looking instrument panel. It's equipped with a digital display that provides information about flight parameters and electric motor data. The dashboard displays crucial information like remaining endurance, power consumption, battery status, and other essential flight information.
Certification and Use of the Pipistrel Alpha trainer
The Alpha Electro was the first electric aircraft certified by the Federal Aviation Administration (FAA) for flight training. This certification marked a significant milestone in the acceptance of electric aircraft within the aviation industry. You can read more about the FAA's commitment to a more sustainable future in aviation here.
"The FAA is committed to making aviation cleaner, quieter, and more sustainable."

faa.gov/sustainability
Other than the powerplant, it is a conventional aircraft with benign stall characteristics and normal cruise speeds for the category.
Who is the Pipistrel Alpha trainer for?
The Alpha Electro is particularly well-suited in a circuit and ab-initio training role for flight schools, especially those who have experience with alpha trainer aircraft on their flight line.
The running costs of the Electro are significantly lower than those of traditional, internal combustion engine aircraft making for economic training of student pilots. Its simplicity, ease of use and maintenance, and low noise and vibration levels make it an excellent platform for learning the ropes of flying.
The aircraft can tolerate student pilots (accepting hard landings), and has easy cockpit access, low operation cost and good performance makes for a perfect training role performing circuits.
One drawback however is cross-country flight training, which the Alpha Electro is not suitable for owing to its limited endurance. Other lsa training aircraft such as the Alpha trainer (AvGas or ordinary mogas fuel variants) provide longer endurance, so a mixed flight line of Alpha trainer and Alpha Electro new training aircraft offers a complete flying solution.
You can watch this Youtube video of the Pipistrel Alpha trainer breaking the world endurance record in Australia.
Summary of the Pipistrel Alpha trainer
In summary, the Pipistrel Alpha Electro marks an exciting step toward a future where electric flight is mainstream. It showcases what is currently achievable in electric aviation and offers a glimpse into the future of flight training and affordable flying.
As battery technology improves, we can expect the performance and endurance of electric aircraft like the Alpha Electro to only get better, revolutionizing training aircraft and the aviation training market.